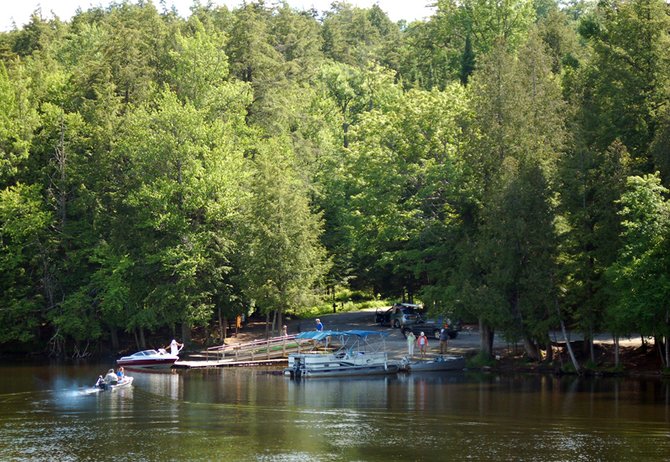 continued — The improvements will include the following:
-The existing log cabin at the launch will be removed, and the site will be reclaimed.
-A new 8x12-foot booth will be constructed near the launch area. DEC staff will use the booth to register campers and to monitor the launch.
-A 20x30-foot firewood storage building will be constructed and will provide either local or treated wood for sale to campers.
-The launch ramp will be reconstructed with a double-ramped boat launch with a turnaround for vehicles.
-The new parking lot will be configured with about 100 spaces, and parking spaces will be provided for people with disabilities.
-The fixed wooden docks used for boats, canoes, kayaks and other watercraft will be replaced with ADA-compliant floating docks that will more easily accommodate boaters as water levels rise or fall during the season. The existing cribbing at the launch site will be removed.
-There will be a new entrance sign on Route 3 and a new information kiosk at the launch area to provide information about controlling the spread of invasive aquatic species.
-The bathroom building will be reconstructed with either composting toilets or above-ground pumpable vault units.
-DEC staff will work with the state Department of Transportation to prohibit parking along State Route 3 near the boat launch.
The construction changes will require an amendment to the State Land Master Plan, with 6.8 acres to be reclassified as part of the High Peaks Wilderness Area and 5.6 acres to be reclassified as Intensive Use.
Public comment will be accepted on the Draft UMP and public hearings will be held at DEC Headquarters in Albany and APA Headquarters in Ray Brook. The dates of the hearings were not set by press time.
For more information, visit www.apa.ny.gov or www.dec.ny.gov.
Vote on this Story by clicking on the Icon