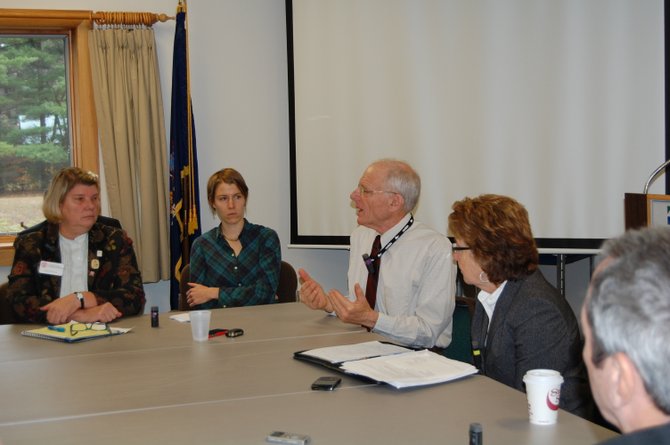 continued — Lewis also said that he had "dealings" with each of the county officials that make up the BAR.
"I do not think these guys can solve the problem," Lewis said. "I think that they can if they bring in professional, outside services, but you cannot say you are qualified to do this because you went to a two-hour course."
Lewis continued to say that he felt the appraisal that was done by Don Fisher, putting the parcel at $2.3 million, was too high.
"I am not going to settle for that amount because even if I did agree with the town to use this appraiser, I still feel the humber is too high," Lewis said. "You will never sell this property for that much as a farm."
Lewis said that, along with the suit, he is looking at other options with his farm and land.
"The wind is in our face here," he said. "I expected that from the APA, but it appears that town is out for us as well. Everyone says that it's OK because Sandy can afford it, but it does not work that way."
He said that he has recently started to sell his grainery equipment along with any non-essential equipment.
"We expect to put four of our smaller properties up for sale as well," Lewis said. "The Ritchie Brothers Auction House is working with us on the equipment that does not get used. I have never sold anything around here, but maybe it is time."
Lewis also brought up the idea of turning the farm into a research center, thus making the property a 501c and taking it off the tax rolls.
"I have had some very preliminary discussions with some institutions about that," he said. "Taking all of this land and taking it off the tax rolls would hurt the town and county, but I wouldn't care one bit. If this farm does it and forms a partnership with various educational services, then we are off the rolls.
"They are not going to milk me anymore," Lewis added. "I will take the cow out of the pasture."
Vote on this Story by clicking on the Icon