Keeseville — For Speedy Arnold, the family business has been an adventure since he was 5 years old.
Now, he and his wife, Sue, are starting to prepare the next generation at Arnold's Grocery store in Keeseville, a half-century after his parents, George and Anne, bought the business.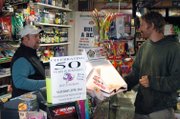 "My parents started working here in 1961 and then bought the store in 1962," Arnold said. "My older sisters have worked here, my grandfather worked here with my dad when they bought the store, and now the fourth generation of Arnold's is here."
The doorway to the store shows the wear of time, as the bell that welcomes customers in and out of the shop has worn a hole into the top left corner.
"We figure that the door has been opened between three and four million times over the last 50 years," Arnold said. "I have had people say that we should get a new door, but this door is part of the history of our family."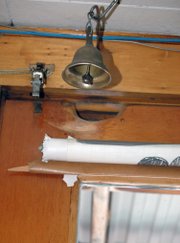 Also part of the family is the official store greeter, Joe Cocker, a cocker spaniel that welcomes customers with a high-pitch, "song," according to speedy. He was also the recipient of a lot of recent attention.
"When the Keeseville columnist said that he was sick and that people should go and pay their respects, we had tons of people coming in to ask if he had passed," Arnold said. "Well, he's still here and still welcoming everyone with his songs."
While the offerings on the shelf have changed some and the store now has a liquor store where customers can get hard-to-find beers as well as create-your-own six-packs from over 75 different varieties of brew, Arnold said that there have been some constants throughout.
"We have had lots of loyal, hard working employees," he said. "There have been generations that have come into the store and plenty of people that my father introduced me to when I was a kid that still come through the door today.
(Continued on Next Page)
Prev Next
Vote on this Story by clicking on the Icon