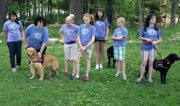 WESTPORT — As the members of Susan Satloff's enrichment class spoke with children from Lakeside School, a year of hard work was on display.
Throughout the 2012-13 school year, the sixth-graders have learned about training and taking care of three therapy dogs — Bailey, Shiloh and Jessie — who live with Satloff.
"Theses dogs are perfect for this kind of program and for kids that want to learn to be dog handlers," Satloff said. "This group of students came along and wanted to learn how to handle dogs and train them, and it turned into a nice community project."
The dogs, and students, were all trained through Therapy Dogs International, and each of the students became certified dog handlers.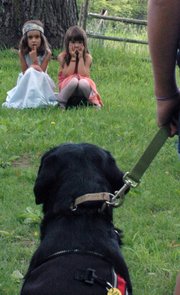 Sixth graders who took part in the class included Taylor Gough, Malynda Lobdell, Pipiena Malafu, Hannah Schwoebel, Elizabeth Stephens and Ellie Storey.
Each said that they had learned a lot in the program about handling dogs, what a therapy dog does and why they are needed.
"It's very important that these dogs help others," Gough said. "They play a big part in people's lives."
"It was a lot of work and a lot of fun," Lobdell said. "We learned how to train and take care of dogs."
"We learned how to teach the dogs' commands that they would listen and respond to," Malafu said. "I also learned about the proper way to approach a dog by putting your hand out so they can sniff it before trying to pet the dog."
"We learned about basic training and safety around dogs," Schwoebel said. "It was great to learn about the dogs and to earn our certification."
"There is a lot of hard work that goes into training these dogs," Stephens said. "We learned so much and there is a lot more to the care of a dog then just food and water."
(Continued on Next Page)
Prev Next
Vote on this Story by clicking on the Icon