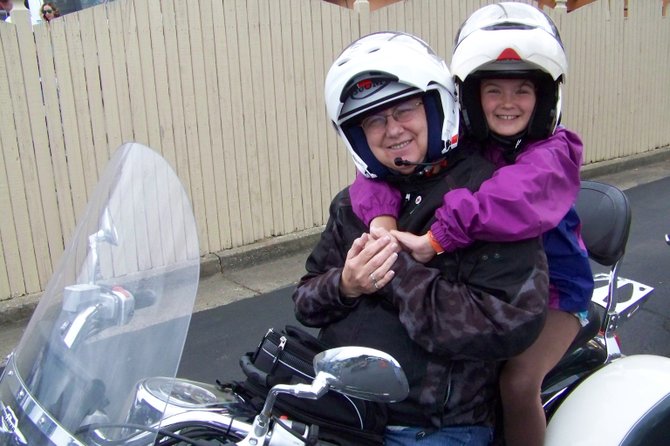 continued — "If we have a good time like I hear we we're going to, we'll be returning home and letting our other club members know, and there will be many more Buffalo Troopers attending next year," he said. The Gilmores traveled a total of 900 miles over two days, much of it in the rain, to attend Americade.
Another couple didn't have to travel many miles — friends Joe Osborn and Michelle Mailloux arrived Tuesday after a short jaunt from Stillwater, their hometown. Like many others, the Americade rally annually serves as their vacation.
The highlights of the rally for Osborn and Mailloux, they said, are the guided motorcycle tours, and the dozens of other daily activities. Americade's TourExpo, they said, always offers up new motorcycling accessories, whether its chaps for Mailloux or LED lighting or a custom seat for Osborn's motorcycle.
"We like to see whatever is new at TourExpo," Osborn said.
"Also, we thought the ghost tour at Fort William Henry was fun," added Mailloux.
Diana and George Wunschel donned their helmets after finishing a stint volunteering at the registration table. George is considered the "Voice of Americade," due to his work behind the microphone announcing events. The two also serve as models for the rally's fashion show. Hailing from Harrington Park, they've volunteered for six years, having attended the rally for several years prior as paid attendees.
"We knew how great it was, and we wanted to help out," George Wunschel said. "We enjoy seeing the various brands of bikes and love being around all the different people."
The Wunschels' 2012 trip to Lake George might pay off for them. George Wunschel works as a salesman for a motorcycle dealership, and he rode a Harley trike, one of his dealer's demonstration motorcycles, to the rally — and another Americader fell in love with it and pledged to purchase it, offering a deposit.
Vote on this Story by clicking on the Icon