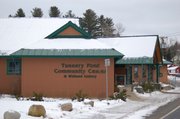 North Creek — It has become trite to even suggest that our future is our children. Clearly that is the case; it will be those younger than ourselves who will carry on when we are no longer here. They are, indeed, our future.
Woody and Elise Widlund, who envisioned the Tannery Pond Community Center and who footed the bill for the building, understood this. They are themselves the proud parents of three children: Wendy, Heather and Eben. Eben and his wife Chris just recently gave birth to a daughter, Aida; Woody and Elise's third grandchild.
One of the first children's programs at Tannery Pond was "Ed and Ned" (Brian Chevalier and Neal Herr) who had developed an interactive musical "Adirondack Kids" which brought "hare-brained woodsmen, ghost stories, logger lifestyles, river riding, hermits and hunters to life using scatter-shot humor, original music and bald-faced lies."
Later that summer, in 2002, local children were introduced to theater skills — including reading monologues, learning stage directions, and performing skits — under the tutelage of instructor Christy Carson Hanshaw. Hanshaw had been sponsored by the local Our Town Theatre Group and invited to North Creek from Oklahoma City by Lyle Dye with whom she had worked while still a teenager herself. Hanshaw operates Stagestruck Studio in Oklahoma and several of her students have gone on to theater and TV roles.
When "A Celtic Music Celebration" came to Tannery Pond for a concert and dance, they also held a free children's workshop to share with local children their love for the bagpipe, harmonica, guitar, tin whistle — and clog dancing.
Other youth musical instruction at Tannery Pond has included the violin, ballet, modern dance, folk dancing and jazz.
The Cheerful Crickets pre-school used the facilities at Tannery Pond from 2003 until the group dissolved in 2010.
An "After School Art Club" for children has run for eight weeks every spring. The "Art and Nature Camp" in the summer has featured children's instruction in drawing and sketching, painting, wacky bird sculptures, papermaking, T-shirt printing, snow globes, sock puppets and more.
(Continued on Next Page)
Prev Next
Vote on this Story by clicking on the Icon