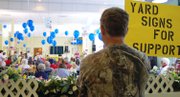 Elizabethtown — Community members held their own public forum to make their voices heard after the county denied a public meeting to discuss the sale of Horace Nye Nursing Home.
Not even the weather could stop the forum as the Day of Support For Horace Nye on Saturday, June 2 was moved into the nursing home cafeteria. The room was filled with residents, community members, staff and family of residents to voice their opinion if Horace Nye should remain pubic or stay private.
Moriah Supervisor Tom Scozzafava and Chesterfield Supervisor Gerald Morrow and event organizer and RN Celeste Beeman spoke to ralliers during the event, calling for the home to remain county owned.
"It's not about dollars and cents; it's about keeping it open for the people who need it," Morrow said.
Morrow and Scozzafava talked about their struggles in the county to support not just Horace Nye, but to support all county departments.
"The question becomes can the tax payers of Essex County continue to support the services that we have," Scozzafava said.
Of the $100 million budget, the county supports the nursing home for $2.1 million. Scozzafava said the county also supports North Country Community College for $5 million, the County Jail for $5 million, a $12 million communication system that will be constructed this year and many other programs.
"Never in 25 years of office have I had a taxpayer come to me and say they didn't want to pay taxes to support the nursing home," Scozzafava said. "It's a sad day when we take better care of our inmates and criminals that our elderly."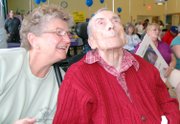 For Barbara Paye, the daughter of resident Harris Young, Horace Nye is a home that her father deserves. After serving as a veteran counselor in the Army, she said it's time the county took care of him in return.
(Continued on Next Page)
Prev Next
Vote on this Story by clicking on the Icon