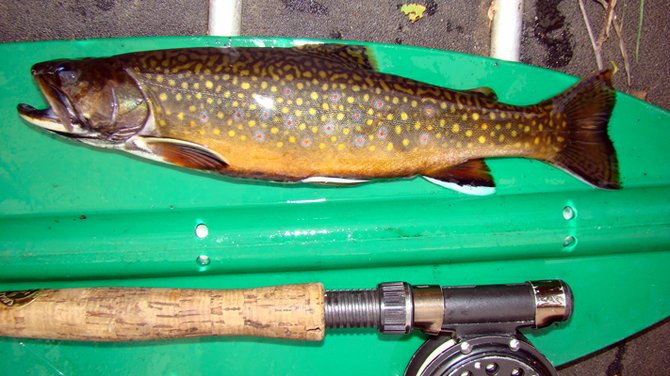 The floods, which were considered to be both 100 year and 500 year events, served to reshape not only the river corridors, but in some cases, entire communities. The repercussions of these back to back natural disasters are still being felt.
Such is the yin and yang of flowing waters. They soothe us, entertains us, and provides us with unlimited entertainment and intangible health benefits.

And yet behind their obvious beauty, embracing depths and caressing currents, there lurks a savage heart and a relentless power. Try though we may to arrest the flow, or harness it for our use, the flowing waters will continue to prove they have a mind of their own.
While some may believe we own the waters, it was quite obvious, that man is not in charge last summer. Nature rules, as it always has and always will. We are simply visitors that are graced with a splendid opportunity to enjoy the waters while we can.
...and off to the brook
Over the past month, I have focused the majority of my angling adventures on a search for brook trout in the ponds. Increasingly, it appears that more and more anglers have had a similar attraction to the ponds, likely for the same reason. As a result, it has become increasingly difficult to find a lonesome pond, that is truly lonesome anymore.

When I encountered nearly a dozen vehicles at the canoe launch of a popular local pond recently, it proved just too much traffic for my taste.
Although I truly enjoy catching big brook trout on remote waters, I prefer to do it alone, or at least with very little company and no audience.

As a result of the apparent overpopulated human population, I decided to retreat tfrom the ponds to the less traveled recesses of a much smaller fishery, on a nearby trout stream.
Joe Hackett is a guide and sportsman residing in Ray Brook. Contact him at brookside18@adelphia.net.
Vote on this Story by clicking on the Icon