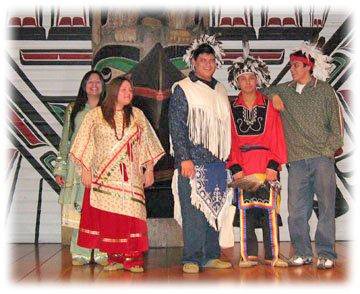 Ticonderoga — A Native American heritage program will be held in Ticonderoga.
The Ticonderoga Historical Society will present "Ronathahonni, They Who Paved the Path" Saturday, June 16, 1 to 4 p.m. at the Hancock House located at 6 Moses Circle.
The program will feature a troupe from the Mohawk Territory of Ahkwesahsne on the St. Lawrence River. The group will present a program of music, dance and storytelling. The event is free and open to the public.

From the Ronathahonni Cultural Center, the troupe features five singers, dancers and educators who wear colorful, traditional attire representing their tribe and traditions.

"A musical performance including spirited song and exhilarating dance to the sounds of beating drums defines the first part of their program," said June Curtis, event coordinator. "The cultural presentation follows with emphasis on wampum belts. A fascinating history of the two row wampum belt will bring to realization the phrase, 'you stay in your boat, and we will stay in our canoe'. "
This will be the third in a series of educational, arts and cultural programs showcasing the diverse heritage and traditions of Native American peoples.

"Not only will children be enthralled, but also adults as this performance is authentic and speaks to a multi-generational audience," Curtis said.
Ticonderoga Arts will also take part in the event. Between and after the Ahkwesahsne performances, face painting with native symbols and hair braiding with feathers will be offered by Joan Pulling in the gallery on the lower level. Tonya Condon will photograph the event.
"Once again, we are pleased to have Ticonderoga Arts join us in directing the afternoon's activities," Curtis said.
The Ahkwesahsne presentations will take place on the lawn under a large tent, rain or shine. People are asked to bring lawn chairs or seat cushions.
This event is made possible, in part, with a Developing Community Arts Grant with public funds from the New York State Council on the Arts Decentralization Program administered locally by the Arts Council for the Northern Adirondacks. Also, Stewart's Shops, the Ticonderoga Historical Society and private donors have funded this project.
For further information contact the Ticonderoga Historical Society at 585-7868 or E-mail tihistory@verizon.net.
Vote on this Story by clicking on the Icon