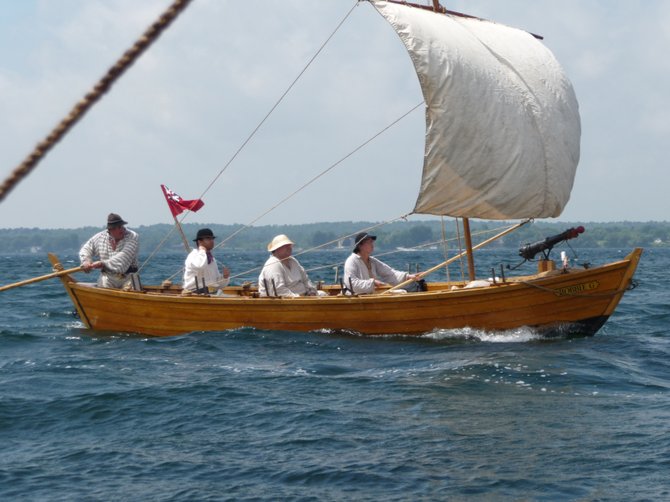 Crown Point — It's difficult to really understand history without actually living it.
That's the belief of David Manthey — and that's the reason Manthey and others will make "The Big Row — Exploring the 18th Century via Mohawk River bateaux."
The group will travel from Crown Point through Ticonderoga to Bolton June 11-15 using a bateaux — a flat-bottom cargo boat — owned by the Mabee Farm Historic Site, which is a property of the Schenectady County Historical Society.
"In the 18th Century the bateaux was the tractor-trailer of its day," Manthey explained. "It was commonly used to transport materials and goods from one destination to another.
"Having a boat just sitting in a museum really doesn't tell you much," he added. "The best way to learn about it is to use it. That's what we do. This is our 10th year making a trip with the bateaux and we've really learned a lot."
This trip will be different though. Making use of a newly-constructed bateaux wagon, it will will include the group's first-ever portage.
"Now that we have a period wagon, we are interested in trying to use it in a more routine manner, such as the traditional portage between Lake Champlain and Lake George," Manthey said. "Ticonderoga is perfect."
Manthey stressed the entire trek will be accomplished using 18th Century equipment.
"We have been make yearly rowing trips in the bateaux, and this year's focus is on a portage," he said. "The trip is roughly 44 miles long, of which 2.5 miles are a portage. It will be done in replica 18th century bateaux owned by the Mabee Farm Historic Site and crewed by period reenactors from Schuyler's Company of New York Provincials. The crew will stay in 18th-century clothing and use period equipment and gear throughout the entire trip. The portage will be done with a replica 18th-century bateau wagon and be hauled by man power."
(Continued on Next Page)
Prev Next
Vote on this Story by clicking on the Icon