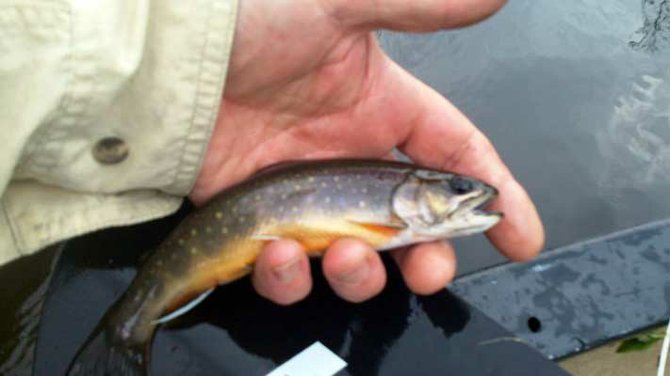 During the heat of the summer, the best angling opportunities are often limited to the very, early morning hours, or at dusk and into the evening. While trout may remain receptive to the fly at these times, they can lose so much energy while battling an angler, that the resulting lactic acid in their system will cause them to go into shock.
As a result of such dangers to the fisheries, I will often retreat to the small, shaded mountain streams or the higher elevation ponds, at this time of year. I often abide by the old saying, "If you want more, maybe its time to desire less."
While trout may be smaller in such waters, their surroundings typically have much cooler waters, which are far less crowded than the usual lower elevation haunts. Despite this fact, a majority of these small streams and little ponds remain lightly traveled by most anglers, which often makes it easy to find a place all to yourself.
I'd prefer to catch a dozen little brookies with a small, six foot flyrod, than spend a day in the hot sun, slinging flies on a big river to no avail.
The Big Lake in crisis
Last week, while attending another lecture in the weekly series presented by the Essex County Historical Society, I listened to a plea for help.
The message came from Dr. Tim Mihuc, a professor and the director of the Lake Champlain Research Institute at Plattsburgh State University.
Dr. Mihuc has issued a plea to his fellow researchers and to the general public to demand the State of New York close the Champlain Canal immediately.
The urgency is necessary to prevent the pending introduction of a new invasive species know as the Spiny Water Flea from entering Lake Champlain.
The potential threat posed by the flea to the lake's ecosystem is considerable. Once it arrives, there will be no way to eradicate it, since it will have no known predators. The fleas will disrupt the food chain and severely impact the lake's burgeoning sport fishery, which will also have a huge impact on the regional economy.
Joe Hackett is a guide and sportsman residing in Ray Brook. Contact him at brookside18@adelphia.net.
Vote on this Story by clicking on the Icon