Saranac Lake — On the weekend of July 14-15, the All-Taxa Biodiversity Inventory (ATBI) conducted its fourth bioblitz in the Adirondack Park, this time in and around the Village of Saranac Lake. ATBI is a collaborative organization composed of various groups and schools in and around the Adirondacks committed to surveying and protecting the biodiversity of the park.

"There are two goals to ATBI," said David Patrick, Director for the Center for Adirondack Biodiversity at Paul Smith's College, and coordinator for the event. "The first goal is to inventory what species occur here, where, and how many. Without these baseline data we have no idea what has happened if things change in the future."
"The ATBI is good for knowing what's out there and to get a historical perspective for future changes," added Steve Young, Chief Botanist for the New York Natural Heritage Program who gave the keynote address on finding rare plants in the Adirondacks.
"The second goal," said Patrick, "is to use that process of inventory as a vehicle for public education. It is a two-way process – we are trying to listen to local people as well."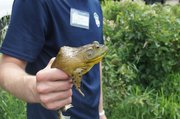 To these ends, the bioblitz in Saranac Lake featured teams of volunteers – including many students from Paul Smith's College and SUNY-ESF - with expertise in various areas of natural history surveying trails, lakes, and neighborhoods throughout the village. The event was headquartered at the Saranac Lake public library from which teams radiated out to canvas the area.

All told, the survey found about 670 species (with a few more species still to be added) in and around Saranac Lake, led by over 400 species of plants.
"It's a wonderful opportunity to get experts in all these different fields together to see what's out there," said Brian McAllister a Naturalist/Educator at the Paul Smith's College VIC who coordinated the effort to survey birds.

(Continued on Next Page)
Prev Next
Vote on this Story by clicking on the Icon