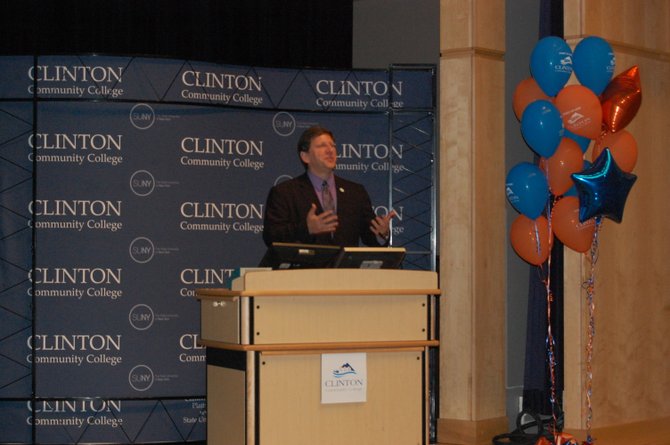 The tagline blends student aspirations for upward mobility with the "distinctive, elevated campus, and also echoes the economic development role the college plays in the community," said Stamats Senior Writer Joan Benson.
"It's a tagline that works well for the college," Jablonski said. "It can be used in so many ways to showcase all the great things happening 'Up Here' at Clinton."
With the new logo, the college's primary building is center stage between fluid waves and the angular mountains. The graphic rests on the college's name.
Jablonski pointed out that the cost of the brand and marketing strategy was born by the "Moore Innovation Fund," a private endowment managed by the Clinton Community College Foundation. No taxpayer or student monies were used for the six-month, $30,000 contract that resulted in the new logo, tagline, brand book, web site design template and numerous templates for print and electronic media.
"We know the budget is tight and taxpayers are struggling to support what we do here as an institution," Jablonski said.
But Jablonski also said it was important to complete the project, which became a reality thanks to the "Moore Innovation Fund."
CCC has a new look and feel but it continues to be committed to student access and success, Jablonski said.
"This reflects the bold spirit of Clinton and the bright future our graduates can expect," Jablonski said.
Vote on this Story by clicking on the Icon