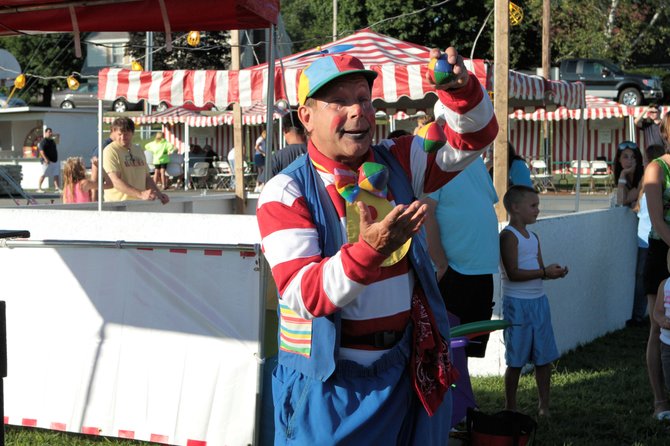 continued — In celebration of the Jamboree's 50th, the firefighters are bringing back two traditional activities for children — the pie eating contest and a sack race.
In another bow to tradition, two firefighters who staffed booths in the early days will be back on duty. George Sprague Jr., now in his 80s, will be serving up the first hot dog on Friday night, just as he did in 1963. Jud Smith, also one of the event's founders, will be back — and perhaps be pressed into duty.
Geraghty recalled that the first Jamboree featured the Doc Williams Country Show, featuring Doc's wife Chickie, and the band's blind accordionist Marian Martin. The West Virginia-based band was considered one of the most popular bands touring the country after World War II. They were joined onstage by Cy Flewelling and the Rhythm Rangers, a Glens Falls-based band who had played alongside Willie Nelson.
Back then, the crowd would engage in round and square dancing, Geraghty said.
"The music changed over the years as tastes evolved," Geraghty said, noting that the Jamboree crowds now prefer rock 'n roll.
Some traditional events were abandoned due to liability restrictions. Early Jamborees included people attempting to climb up a tall greased pole to retrieve a few dollars.

The auction features a wide variety of quality home furnishings and nick-nacks, Geraghty said. One item that's bound to prompt bids is a Tiffany crystal snow globe that contains a model of the Twin Towers and the Manhattan skyline. This gem is joined by such offerings as a load of topsoil, sealcoating and dinners out, Geraghty said.
"The generous local businesses have continued to support us this year as they have for many years," he said. "You name it, we've got it in the auction."
Major donors to the Jamboree include Warrensburg Car Care, Glens Falls National Bank, Alexander Funeral Home, Braley & Noxon Hardware, Camp Echo Lake, Jacobs & Toney Meats, Oscar's Smoke House, TD Bank, Warren Ford and McDonald's Restaurant of Warrensburg, plus the local government and the Warrensburg Chamber of Commerce.
Vote on this Story by clicking on the Icon