continued — Douglas later said that he has already been working with local representatives to push for funding for these local theaters to make the conversion.
"I have been in contact with all of our local representatives and federal senators on the matter," Douglas said. "There were some that did not even know that this was going on."
Trouble in the 'Hollywood'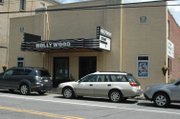 In a letter to Sen. Chuck Schumer, Douglas wrote that for the Hollywood Theater in Au Sable Forks, they were looking at a conversion price tag for their two screens of around $160,000.
"This expense will be unreachable for them as a small business," Douglas said. "Cory and Sierra (Hanf, owners) used a portion of the $200,000 matching grant secured by the town through the Office of Community Renewal to restore their marquee and other needed improvements. (These funds) to improve their theater and help to revitalize our downtown would now be undermined."
"If we do not convert, we will not be able to show any movies at all," Sierra Hanf said. "By the end of next year, there will be no more 35mm film. It will all be digital. We have been told we have to convert or we will have no movies at all."
Hanf said that the general thought among movie companies that she has talked to is that the digital transition will come after the 2013 summer movie season, but before the holiday movie season.
"It is estimated that the change will be fully done by November of 2013," she said. "Then, there will be no choice, you don't have digital abilities, you have to close."
Hanf said that they are hoping that the grant will be able to help them convert.
"If we do not get this grant, there will not be enough time to get another one," she said. "People have asked us about getting a loan, but a theater like ours would never be able to make that loan back unless we started charging what the big theaters do, and we will not do that."
Vote on this Story by clicking on the Icon