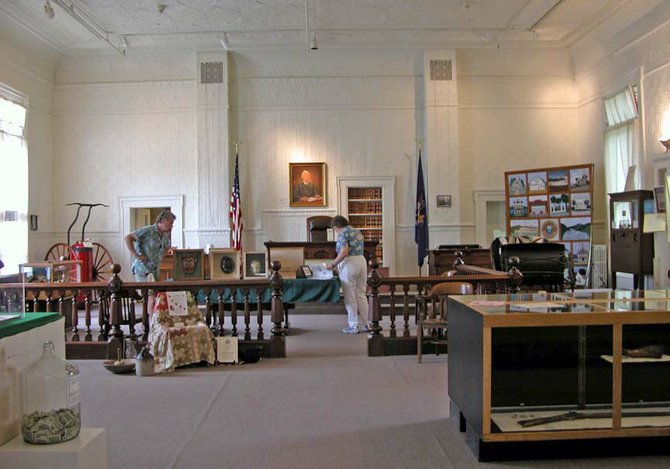 continued — Metal detectors are likely to be installed, plus the front entrance and bathrooms are to be rehabilitated so they accommodate those with mobility disabilities, he added.
During Caruso's visit, the judge offered to provide for the courtroom dozens of antique chairs that he had stored, Dickinson said, noting that the chairs would be similar in age to the court's historic furnishings.
The courthouse might get new twin-pane windows with wavy, antique-looking glass as well as curtains that fit in with the historic setting, he said. Floors may be redone, and chandeliers that were removed from the building in the early 1960s may be replaced, he added. The furnace now works well but may need updating, Dickinson added, noting that the building presently has no central air conditioning.
Dickinson said that reusing the old courthouse would mean the town would be investing in the valuable historic structure, preserving it for future generations.
"This is a great effort, because the courthouse is a magnificent, historic structure."
Dickinson said that the town would also be using the courthouse for other functions — including civic events and weddings — and that the building would continue to host the artifacts now put on display by the historical society.
In other business undertaken at the joint Lake George town-village meeting, the municipal leaders:
• Pledged to work out equitable ownership of the Charles Wood Park, without committing to exact percentages allotted to the town, county or village. The town of Lake George has been seeking to buy back partial ownership of the park, and the eventual ratio of ownership by the county, village and town is still in dispute. Recently, the village has backed away from a plan allotting one-third ownership for each.
• Agreed to move forward on transferring the ownership of the land — from the village to the town — that hosts the town trash transfer station. This issue has been unresolved for a half-dozen years.
Vote on this Story by clicking on the Icon