Lake George — After a half-century layoff from official duty, the old Warren County Courthouse is likely to again hold county court sessions, Lake George Town Supervisor Dennis Dickinson revealed Monday July 23 at a rare joint meeting of the town and village boards.
Such court proceedings may begin on a regular basis as soon as September, Dickinson said, noting that state officials have toured and inspected the building with an intent of resuming its historic use for Warren County court and state Supreme Court sessions as needed.
Dickinson said that the town is now poised to refurbish the Victorian-style building. Such upgrades include increasing energy efficiency, boosting security and adding furnishings to meet state requirements. The looming brick building, now in use as a museum by the Lake George Historical Association, is situated at Canada and Amherst streets in Lake George.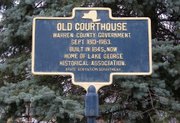 Dickinson said that state Supreme Court District 4 Administrative Judge Vito Caruso toured the old county courthouse about six weeks ago with an entourage of assistants including a security expert — and they examined the facility with an intent to restoring its historic use.
"They were excited about it," Dickinson said, adding that the court proceedings to be held in the old courthouse will likely be restricted to non-violent offenders.
Monday July 23, the Lake George Town Board voted to spend $950 to have the courthouse's floorspace plotted so the state can review it and set furnishings up to meet their requirements.
For years, the three courtrooms at the Warren County Municipal Center have been overbooked, the existing facilities were deemed inadequate, and the state has been seeking a new site for court proceedings.
The court sessions are to be held on a regular schedule, Dickinson said, but not in July or August when tourists are swarming in Lake George.
(Continued on Next Page)
Prev Next
Vote on this Story by clicking on the Icon