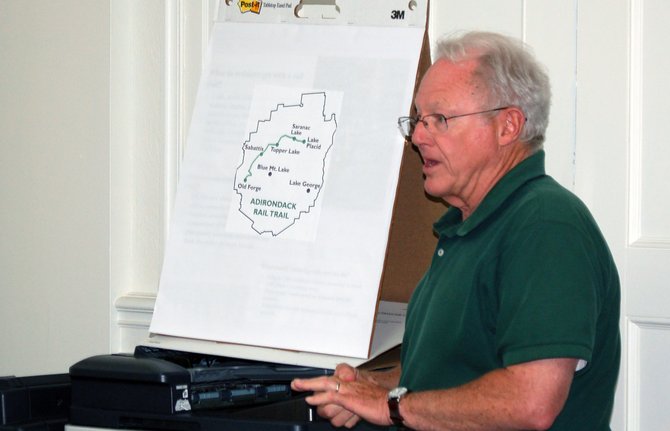 continued — Keet told Village Board members that there are plenty of tourists who would visit Saranac Lake for the Great Adirondack Recreation Trail. As proof, he said 2,000 people signed ARTA's petition on July 22 during the Ironman Lake Placid triathlon.
"Everybody that comes here comes to the Adirondacks because they want to recreate," Keet said. "The number one recreation in the United States now is — you're going to say golf, wrong — it's hiking. Hiking is more popular than golf."
Keet said ARTA Board members would like the Saranac Lake Village Board to pass a resolution endorsing the Great Adirondack Recreation Trail.
Trustee Tom Catillaz had one question for Keet.
"Who makes the final call on this?" Catillaz asked.
"(Gov.) Andrew Cuomo," Keet said.
Mayor Clyde Rabideau said he had two comments regarding a possible resolution on the rail trail.
"Number one, I'd like to hear from the Tupper Lakers," Rabideau said. "And number two, we will consider your resolution, and we'll talk about it at our next meeting, and if there's consensus, we'll put it on the agenda for the following week."
For more information about the proposed trail, visit www.thearta.org.
Vote on this Story by clicking on the Icon