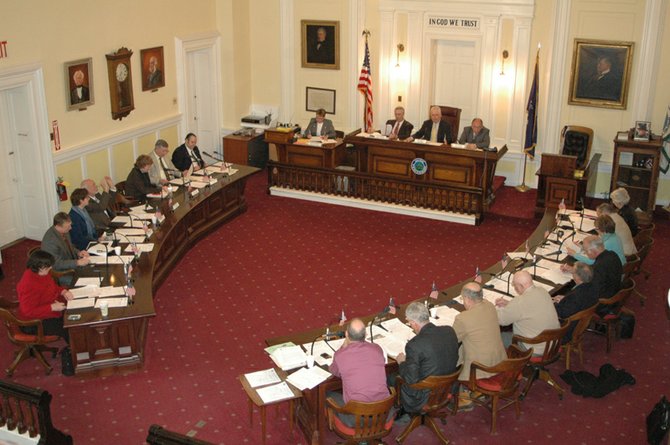 Douglas also said that there are more weighty issues that the board needs to address.
"Do you want the attorney to spend his time on this matter," Douglas said. "A higher government needs to make these decisions, not us. It's going to be highly disputed and a public controversy."
Several other supervisors also weighed in on the matter.
"I have been coming here for 25 years," Newcomb Supervisor George Canon said. "Prayer before the full board meeting has been on and off. I am not uncomfortable with it one way of another and I don't think that it has affected my decisions one way or another. I think that we have to move on."
"I have no problem with the prayer being read here," St. Armand Supervisor Joyce Morency said.
Trying to lighten the discussion, Moriah Supervisor Tom Scozzafava said, "I think that if there is any group that needs prayer it is this group."
County attorney Daniel Manning talked about what would be needed in a "prayer policy," including the need to involve prayer-givers of different denominations and references to different names of deity being removed.
"It basically sterilizes the prayer," Manning said, adding about Douglas, "I think he wanted to make an executive decision and hoped that it would be honored."
Manning said that, because of the editorial, people would be paying more attention to this issue at local boards.
"If you continue the prayers that we are now having, you are in violation of the Establishment Clause," Manning said. "The cat is out of the bag now."
"If this board is going to do something, then we need to recognize the diversity and power of faith across the board," Minerva Supervisor Sue Montgomery Corey said.
"We do not have diversity here, and that is the problem," Douglas said. "I appreciate all that Joe has done, but we do not have the diversity and I don't feel that it is right to continue. We are doing an illegal practice and that is the bottom line. I had to stop it."
Vote on this Story by clicking on the Icon