Ticonderoga — Sharon Reynolds envisions a day when Ticonderoga will be an arts and cultural destination.
"We have so many talented people," said Reynolds, executive director of PRIDE. "All we need are opportunities for them to display their talents to the world. This is a great step forward."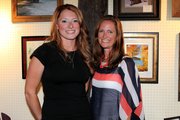 Reynolds was among dozens of people attending the grand opening of the new Downtown Gallery July 19. Located at 119 Montcalm St., the gallery is open Thursday through Saturday 10 a.m. to 4 p.m.
The gallery is part of the Ticonderoga Revitalization Alliance's cultural arts initiative, explained Justin Woods, alliance CEO and president.
The idea, Woods explained, is to link the Downtown Gallery with the Ti Arts gallery in the Hancock House along with exhibits at the PRIDE office, the alliance office, North Country Community College and Ticonderoga Heritage Museum to create a "Ti Arts Walk."
Cathie Burdick, executive director of the Ticonderoga Festival Guild, likes the idea.
"We (local arts groups) have been meeting and we've agreed to all work together," Burdick said. "A joint effort helps everyone."
Burdick noted the Ti Festival Guild and the Ti Revitalization Alliance will jointly present a concert by the Lake Placid Sinfonietta Friday, Aug. 3, at St. Mary's Church at 7 p.m.
Matt Courtright, executive director of the Ticonderoga Area Chamber of Commerce, welcomed the gallery opening. Not only does it bring an attraction to the community, he noted, it fills a vacant store front.
"It's a wonderful addition to our downtown," he said.
Britney McCarthy, an exhibiting artist and art teacher at Ticonderoga High School, said the new gallery and the emphasis on the arts is positive development for the community.
"I think it's very exciting, even inspiring," McCarthy said. "The work (art) is wonderful. I hope everyone takes the time to visit."
McCarthy hopes to utilize the gallery for student projects when classes resume at Ti High.
(Continued on Next Page)
Prev Next
Vote on this Story by clicking on the Icon