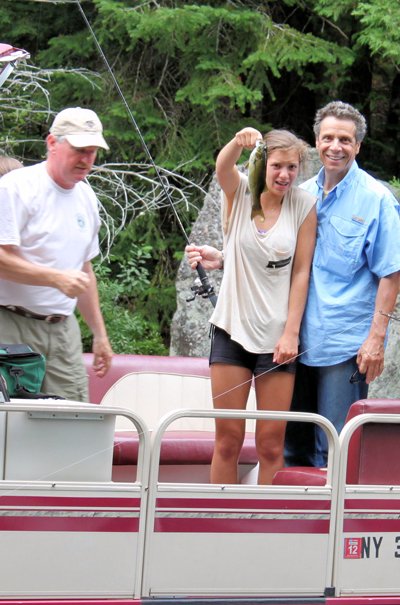 "Summer in New York is a fantastic time for families and individuals to take advantage of the numerous outdoor opportunities offered in each of our state's beautiful regions," Governor Cuomo said. "This new law will allow more New Yorkers to take advantage of free fishing clinics, so our young people and other outdoor enthusiasts can get learn to fish without having to purchase a license. Fishing is both a fun, outdoor activity, and an economic generator for communities across the state. I thank the bill sponsors for their leadership in helping this bill become law."
The initiative will allow more New Yorkers to experience fishing for the first time by increasing the number of free clinics that can be held throughout the state. The Department of Environmental Conservation (DEC) conducts these fishing clinics to introduce individuals and families to recreational angling. Participants are not required to have a fishing license in order to attend these clinics. Under previous law, only four free sport fishing clinics could be held annually in each of DEC's nine regions and DEC employees were required to provide at least part of the instruction at the events.
The new law will permit DEC to hold more clinics, and it will also allow fish and game clubs and other groups to conduct fishing clinics with DEC authorization. By allowing additional free sport fishing clinics, the law is designed to promote participation in recreational angling across New York State. Many local sporting federations and recreational groups run similar fishing clinics and enabling these groups to administer free clinics with DEC guidelines will benefit all New Yorkers who may be interested in fishing and enjoying the outdoors.
Joe Hackett is a guide and sportsman residing in Ray Brook. Contact him at brookside18@adelphia.net.
Vote on this Story by clicking on the Icon