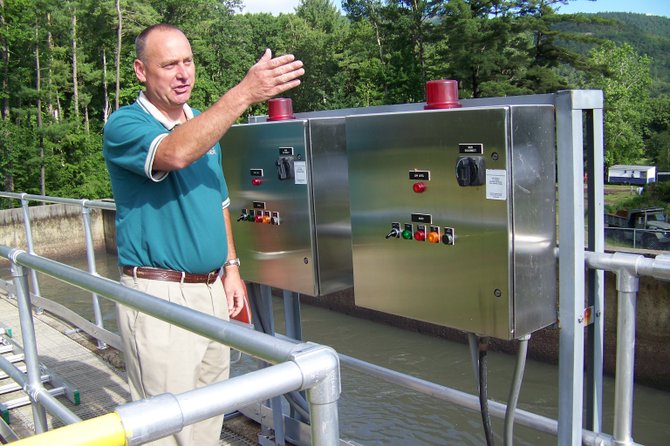 continued — The latter raised a fairness concern with board members, who said that stores weren't allowed, under the new village law, to have digital billboards. They voted a resolution for approval after Adirondack Pedalcab founder Steve Tomb said the billboards would be turned off while the vehicles were stationery — a suggestion Blais made to assure technical compliance with the law.
Board members shared laughter when one councilman noted that he recently saw one of the pedalcabs being pushed up the hill on Rte. 9L toward's George's Restaurant by one of the cab's passengers.
"Our drivers are having a lot of fun," Tomb said, noting that business was good. "Our drivers are serving as great ambassadors for the village."
In other business, the Lake George Village Board:
•Voted to sell their www.lakegeorgevillage website domain name to Mannix Marketing for $1,000. Mannix plans to use it for commercial purposes, but maintain a banner link to the village's municipal website and maintain a bulletin board for village news announcements. Town Clerk Darlene Gunther said municipal association officials advised her that such a sale did not have to be put out for public bid.
• Read a letter from village Fire Chief Alan Moon noting that he and local ambulance squad captain Chris Hawley had not been informed of route closures for the recent Centurion bicycle race. Such lack of notice of a closure, Moon said, posed a public safety hazard. Blais responded that communication on such issues would be boosted, and the village might attempt to obtain reimbursement from event organizers for local emergency agencies — a reward for their volunteers putting in extra duty.
•Voted to approve pursuing streetscape upgrades for the east side of Canada St, north from Amherst St. up to Marine Village motel. The board approved hiring Saratoga Associates to draft the plan and Don Pidgeon of Fort Edward to do the surveying.
•Earmarked $10,000 for survey work and schematic design for streetscape improvements along Canada St. from McGillis Ave. south to the village line. A grant application totaling $31,500 for the project was endorsed earlier this month.
Vote on this Story by clicking on the Icon