Tupper Lake — While most of the region celebrated Independence Day with the Bang! of fireworks, The Wild Center Natural History Museum in Tupper Lake marked the day with a buzz.

The museum hosted its second annual Buzzz Fest – a festival devoted solely to bugs.

"It was fantastic," said Rob Carr, exhibits and interpretive programs manager for the museum, who headed up the event. "Everyone seemed to be have a really good time. There was a real positive energy."
"Insects are an extremely important part of our environment," added Carr. "Without them we would cease to exist. They not only help us, but are ecologically important to all the plants and animals we cherish here in the Adirondacks."
The event was crammed full of fun things to do such as watching movies, programs with live animals, canoe trips, catching insects with entomologists, and even insect races.

"The race was over before our guy made it out of the cup," said Ben Strader of Blue Mountain Lake, whose son Jackson, 5, had participated in an insect race and who was excitedly taking his grasshopper (native species only) to show his sister. "It was a lot of fun."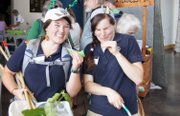 But the highlight for many folks at Buzzz Fest was the insect chef who cooked insects in the museum's great hall, allowing folks to sample his fare.
"I thought being able to eat bugs was really cool," said William, 12, of Charlotteville, Va.
"At first I thought it was strange eating a bug," said Maya, 11 of New York City. "But it was good – very salty and sweet and crunchy at the same time."

"The insect chef is always awesome," said Carr. He's also a biologist and an entomologist. Insects can actually be a sustainable source of protein – about 70% of the world's population has some insects in their diet."

(Continued on Next Page)
Prev Next
Vote on this Story by clicking on the Icon