continued — "There is a lot of feeling out there about what can be done with this place," he said. "I have gone to other towns where they would do anything to have a resource like this building."
Eventually, the organizers would like to see the building used in a similar way as the former Au Sable Forks High School.
"Give the folks of Jay a lot of credit; they made a nice civic center out of the high school that is for the use of the people," King said. "In Jay, they turned the school into the volunteer firehouse. The building is right here and we do not have to build a thing."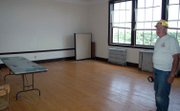 King said that the organization will start looking for grants and funding from different foundations and will also start a fundraising campaign with the help of the Anderson Falls Historical Society.
"The society is putting their name behind us so we can get this pulled off," King said. "This in no way means that they have a bunch of money that they are putting into this building. They are still seeking their own fundraising, but they wanted to give us a name that can go on the grant applications."
King is hopeful that the community will donate to the project.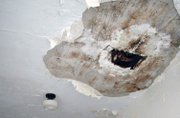 "It will put the community back in here and give them the ownership over this building through their donations," King said. "The funds will go directly to a bank account and they will help in getting this endeavor pulled off."
King said that there also is interest from outside businesses and organizations looking to occupy the civic center once it is renovated.
"We have an organization that would like to rent the second floor, and that could cover some of the expenses," King said. "I have a lot of faith in this community. I choose to be an optimist and not a pessimist."
Those interested in making a donation to the Ausable-Keeseville-Chesterfield Civic Center Fund can send checks made out to "Anderson Falls Historical Society - Social Center Project" to TD BankNorth, attn. Kim Ryan, 1744 Main St., Keeseville, N.Y., 12944.
Vote on this Story by clicking on the Icon