Keeseville — A group of citizens has started to lay the groundwork to bring back the Ausable-Keeseville-Chesterfield Civic Center.
The facility, which was formerly the Keeseville High School, has sat vacant since October 2010 without heat.
Now, a group that includes Ausable town councilman Jim King is looking to get heat back into the building as a first step to revitalizing the civic center and bringing it back for the community.
"Getting the heat back on would be a huge lift," King said. "We need to replace the electric and water and put some new boilers in, but the first goal is to get heat going by this fall. We have to start somewhere. If this building stayed this way, it would just deteriorate more and become a tax burden not just to the village but to the area."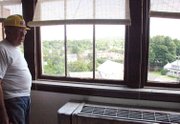 King said that officials for the organization, which is in the process of becoming a non-profit entity, want to look at ways to bring the venue back.
"I went to school here," he said. "When the meetings started to discuss what to do with the building after it was vacated, one of the first suggestions was to knock it down. I said, whoa, let's look at other possibilities first and make that more like our fifth or sixth option."
King said that another reason to make demolition the last choice was the cost that would be associated with such a project.
"We were quoted that a project to demolish the building would cost over $600,000 when it was first closed down, and I am sure that number would be higher now," he said. "This would not be a project where people would just come in and have it gone in three or four days."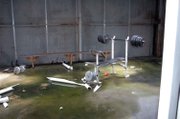 King said that while the building is structurally sound, there would need to be a lot of cosmetic work done as two winters without heat led to peeling paint, rises in the wood flooring and leaks in the ceiling.
(Continued on Next Page)
Prev Next
Vote on this Story by clicking on the Icon