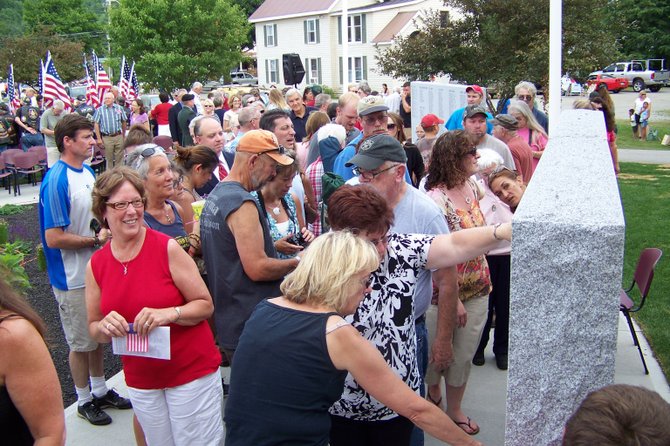 CHESTERTOWN — Harry Bollback looked at hundreds of people crowding around four giant granite memorials, inspecting inscriptions naming about 1,000 veterans who served in U.S. wars and conflicts over the past 235 years.
Moments earlier, Bollback presided over a dedication ceremony for the Chester Veterans Memorial Plaza, and local citizens had witnessed nothing in their lifetimes like this grand event.
Bollback, a World War II veteran, was in charge of coordinating the project of erecting the memorial, which includes the four massive granite slabs, a series of flagpoles, and a tribute sculpture to fallen soldiers. The installations are the centerpiece of the new memorial plaza in front of the town of Chester Municipal Center.
"I'm overwhelmed — I can't talk about this event," he said throwing his arms in the air moments after the memorial dedication ceremony occurred. "I'm too emotional."
The occasion not only included speeches and political luminaries, but a color guard of active marine reservists, hundreds of uniformed veterans, a top state veterans' official, and a daring fly-over featuring two antique airplanes.
But most impressive about the dedication event was the crowd of nearly 1,000 local residents jamming the new plaza, singing patriotic anthems with pride, cheering veterans with gusto — savoring every moment.
State Veterans Affairs Acting Director William Kraus said he was deeply impressed by the commitment of the local residents in their support of the memorial through the donations of cash and talent.
"Chester citizens, you deserve to be proud," he said. "You are the embodiment of America. This monument will stand forever — There is no finer tribute than this."
State Assemblywoman Teresa Sayward offered a similar thought after she noted that her grandson was now serving in Afghanistan, prompting cheers from the crowd.
"This is a very emotional event for me today," she said. "Thank you for all you've done to honor those who gave so much," she said.
(Continued on Next Page)
Prev Next
Vote on this Story by clicking on the Icon