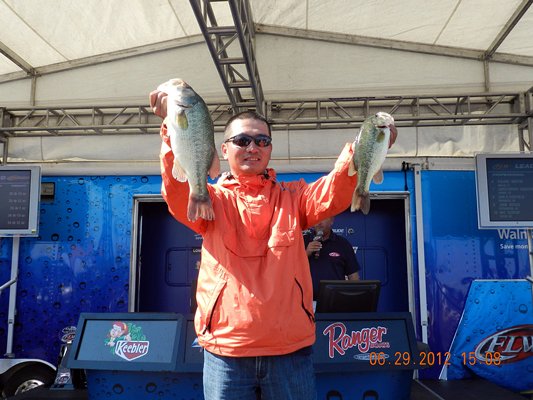 The next morning, after several last-minute instructions, the tournament took off with me and the Happy Fishing camera crew following Wang and Darrel in my boat at breakneck speeds. The Chinese fish from small aluminum boats with electric motors, not the high powered rockets of the American professional bass fisherman. After a 15-mile roller coaster boat ride from Plattsburgh and much hooting and hollering in Chinese by my passengers, we arrived at Wang and Darrell's first fishing location. Apparently, none of the Chinese delegation had ever been 60-plus mph in a bass boat before.
Let the fishing begin. I positioned my boat 20 yards away from Wang and Darrell, allowing the camera crew to film the action. Now, watching someone else fish is worse than watching paint dry. Every cast when you are fishing is made with anticipation, but when watching someone else do the same, it's just plain boring — that is, until someone catches a fish. Thank goodness, two minutes in and Darrel catches a bass and then another one, both keepers. It's on and Wang is down in the boat looking for lures. Come-on Man! This isn't going to be pretty, but at last he's ready and fishing and - Wow - he catches one, about a two-pound largemouth. Great, after many photos by the Happy Fishing camera crew he's back fishing and right away catches another one. Hey, this is fun! The rookie is catching them. Again another one, now Darrel is looking over his shoulder, another one and this one is big! Then a double, Darrel with one and Wang another one at the same time. "Great net job Wang!" I yell. So much for paint drying. Darrel's isn't a keeper, now he's down three to two. It gets worse - two more for Wang in the next 10 minutes, he has a limit. "Oh, Darrel! You're the pro not a guide," I jab him. Darrel's now shaking his head, he looks at me and shrugs and yells, "This kid is good." Time for Darrel to bear down and he does with a couple small keepers. The pressure's turned off and so do the fish — now we're back to paint drying.
Howard Hammonds is a guide and experienced bass fisherman living in Westport. He can be reached at hehammonds@gmail.com.
Vote on this Story by clicking on the Icon