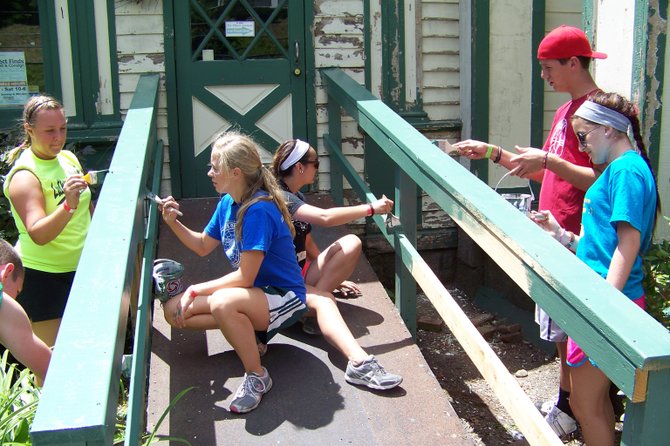 "Their work has been tremendous —they've gotten so much accomplished," she said. "Also, the teenagers are learning so much about plants and gardening."
YouthWorks crews have also painted cabins and cleaned up the property at Jesus Is Lord Camp in Diamond Point, landscaped at the North Creek Ski Bowl and Gore Mountain Ski Center, and fixed up the exterior of the Bakers Mills Wesleyan Church.
In the town of Chester, YouthWorks crews have helped clergy at The Priory retreat house prepare for their annual Garage Sale fundraiser.
In North Creek, the teenagers are working weekly to help construct a community mosaic downtown. They also conduct several visits to Tri-County Nursing Home to play games and lead exercises with the residents there.
The mission is also holding a "Kids Club" open to local children on weekdays at the First Presbyterian Church in Warrensburg.
YouthWorks, a Christian organization based in Minnesota, sends volunteers out to dozens of mission sites across North America. This is the sixth consecutive summer they've sent a series of mission trips to northern Warren County.
The YouthWorks group has been based locally in Warrensburg, with the girls staying overnight in classrooms at the First United Methodist Church, and the boys on the floor of the one-room Pentecostal Holiness Church. In their rare spare time, the teen volunteers were hiking, swimming, socializing and worshiping. Recreation while here has included swimming in Lake George at Million Dollar Beach, hiking though woods at The Priory, and visiting Natural Stone Bridge & Caves in Pottersville.
One of the group leaders, John McIlvane, said the program annually introduces youth to community service while they learn about the local culture, and form relationships with people of all generations.
"We really like being part of the community," he said. "People love that we're here, and we feel very blessed."
Vote on this Story by clicking on the Icon