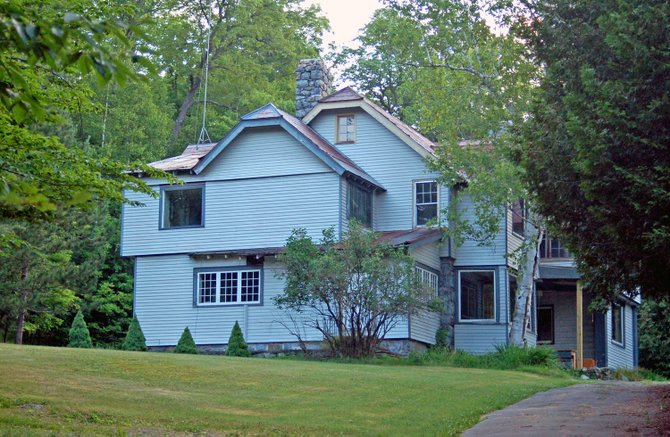 Saranac Lake — After scrapping plans to set up an office and small retreat for veterans on Glenwood Drive, officials at Homeward Bound Adirondacks (HBA) say they are still looking for property in this village to use as a base of operations.
On Tuesday, June 26 — a day after Glenwood Drive neighbors voiced opposition to the project at a Saranac Lake Village Board meeting — Homeward Bound Board of Directors President Bob Ross issued a statement saying the organization was pulling the plug on its latest plans.
"As a consensus of support is not now available, HBA is, with great disappointment, withdrawing from pursuit of the 124 Glenwood project," Ross said. "HBA especially regrets the lost opportunity for veteran and community volunteers to work together on restoring an historic house for use as HBA's home base."
Board member and Saranac Lake native Garry Trudeau, creator of the Doonesbury cartoon, said he would buy the property that had once been owned by his grandfather, Francis B. Trudeau Sr., and turn it over to Homeward Bound Adirondacks to be used as an office and small retreat to serve active members of the U.S. Armed Forces, veterans, their families and professionals interested in veteran reintegration services. Trudeau offered a grant of $125,000 for the purchase.
In order to change the use of the house, however, the property needed to be re-zoned. Currently it is zoned for single-family dwellings, and neighbors wanted to keep it that way. They were also opposed to any "spot zoning" in their neighborhood. A trip to the June 20 Saranac Lake Planning Board meeting to find a solution to the zoning dilemma proved fruitless.
"HBA sincerely hoped that following last Wednesday's Planning Board meeting, the Glenwood community would embrace the Planning Board's offer to work with the neighbors, village officials and HBA to find a mutually supportable zoning mechanism, since none such now exists in Saranac Lake zoning rules and regulations," Ross said. "Unfortunately, such an offer has not been accepted by the Glenwood community members most actively involved in this issue."
(Continued on Next Page)
Prev Next
Vote on this Story by clicking on the Icon