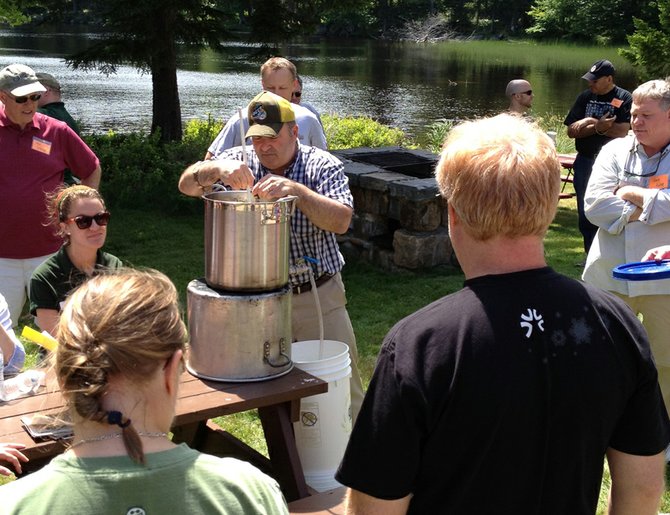 Raquette Lake — Months ago, Jeff Flagg was brainstorming ways to get people to Raquette Lake's Great Camp Sagamore at a time when the black flies tend to rule the forest.
The program director of the historic Vanderbilt family complex decided a weekend centered on craft beer might be the answer.
Based on the reactions from the 60 or so visitors who attended the first annual Black Fly Beer Camp June 29-July 1, he was right.
"This is so much better than a traditional beer festival," said Tim Smith, who drove up from near Cooperstown for the two-day event. "They are crowded and always have a bunch of drunk kids. This was more mellow, like, 'Let's talk about beer.'"
There were demonstrations on how to brew beer from kits and from scratch and a brewing tutorial by Saranac beer's master brewer Rich Michaels.
There was a dinner on Friday night in which beers were paired with foods like pork with walnuts and apples, green beans and rice and beans.

There were samplings — lots of samplings — with beers flavored with everything from peaches and blueberries to maple syrup and coconut. The first sampling session allowed home brewers from all over the region to share beer with others, and to seek feedback from experts.
Reed Antis, who sells home-brewing supplies at Saratoga Zymurgist, was one of the experts. He liked Queensbury rookie brewer Justin Gray's American amber flavored with chocolate, although he said it wouldn't win a competition because it wasn't true to the genre.
"It's not good as an American amber, but you and I would sure enjoy drinking it," he said.
Matt Whalen, co-owner of Good Nature Brewing in Hamilton, liked Ken Bosen's peach-flavored ale saying it was a "nice summer beer."
After the group tasting, it was time for the pros like Michaels and Whalen to offer samples of their commercial offerings at various stations throughout the great camp.

(Continued on Next Page)
Prev Next
Vote on this Story by clicking on the Icon