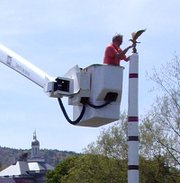 Ticonderoga — "Ticonderoga, the First 250 Years" Committee will sponsor two Dedication Ceremonies Saturday, July 14 at 2 p.m. at Champlain Legacy Park (on the north side of the La Chute River across from Bicentennial Park in downtown Ticonderoga). The Liberty Pole, dedicated back in 1975, having been refurbished and reinstalled will be rededicated on this day. Also, a new walking trail providing access to the La Chute River Falls will be dedicated. The master of ceremonies will be William G. Dolback, Ticonderoga Town Historian and chair of the "Ticonderoga, the First 250 Years" Committee.
Dating back to the years before and during the American Revolution, the Liberty Pole was a sign of liberty, freedom and independence. They were erected in prominent places in communities sympathetic to the American cause as a symbol of defiance against England. Commemorating the route taken by Colonel Henry Knox, markers were dedicated from Fort Ticonderoga to Boston, along the trail where Knox transported cannon used to force the British to evacuate Boston in the winter of 1775-1776. This specific Liberty Pole was designated as the number one marker in this series.
Robert F. Smith, Adirondack Boy Scouts District Vice Chairman and a long time Ticonderoga scouter, was responsible for the initial installation of the Liberty Pole in Ticonderoga. It was his vision back in 1974-1975 to fabricate the Liberty Pole, involving the Boy Scouts and dedicating it for Ticonderoga's Bicentennial Celebration. Bob's son Terry Smith took part in crafting the original pole in Fort Edward with Earl Stott, owner of Roger's Island. International Paper Company and members of the Boy Scouts and Cub Scouts provided assistance. On April 19, 1975, Bob Smith proudly witnessed the erection of the Liberty Pole in front of what is now the 1888 Building, the Heritage Museum, and participated in its dedication for the Bicentennial Celebration and its tribute to the Boy Scouts of America. Ticonderoga's Boy Scouts throughout the years have repainted it in order to preserve and protect it.
(Continued on Next Page)
Prev Next
Vote on this Story by clicking on the Icon