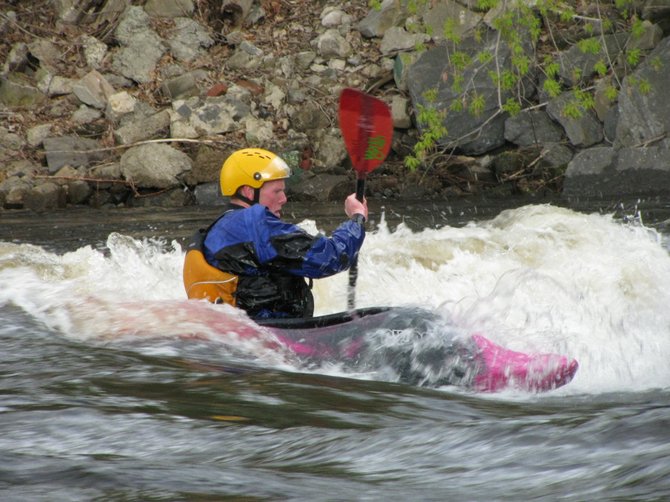 "An assessment would have to be done, but when I saw them working on the General Electric plant, I thought some of that equipment could be used to move rocks around," Maynard said. "This could be a good time to get a project like this finished quickly and cheaply."
Feeling inspired, Maynard attended a city council meeting last spring and put the idea in front of the board, but interest from the common council, he said, was lacking.
"My heart just sank," Maynard said. "They wouldn't even consider it. I'm at the point now where I don't know what else to do."
Maynard might have recently brought the proposal to the attention of the city, but talk of a kayak park in Plattsburgh has ebbed and swelled since Larry Soroka, chair of the expeditionary studies program, concocted the idea about fifteen years ago.
"I meet people all the time while kayaking who tell me they are from other places, like Boston or Buffalo, and they come here to kayak," Soroka said. "One day, it just clicked."
The day it clicked, Soroka was in Saranac Lake, waiting for a friend in the parking lot of the town's small whitewater kayak park. He watched as a woman pulled up in a station wagon to drop off three young boys, who got out and headed to the river to kayak.
"I thought about how those kids could be hanging out on some steps somewhere, doing whatever, but instead they're getting exercise and enjoying the day," Soroka said.
A seed was planted, and the more Soroka considered it, the better the idea seemed.
"If we (Plattsburgh) limit our thinking to the easy and obvious, we'll be doomed to short-term growth," Soroka said. "Instead, we can be thinking about recreation in general, about building a brand and a reputation that costs little to nothing to maintain once it's in place."
Vote on this Story by clicking on the Icon