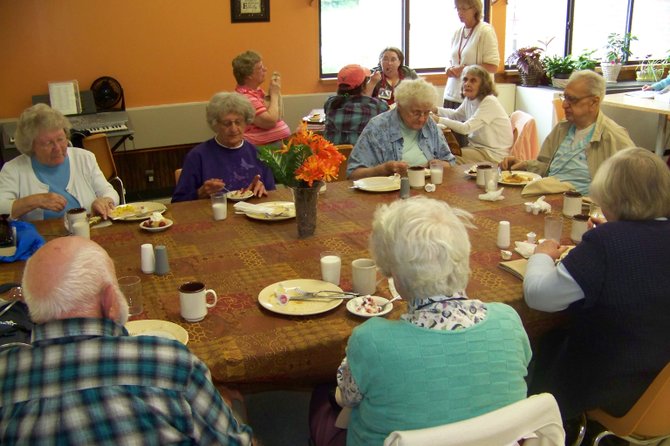 continued — Sabo said the county would reap net annual savings of at least $13,000 in the move to Countryside, and this savings would increase when both programs merge their food orders, rather than place them separately.
Countryside director Deanna Park said that the meals are staggered by about 15 minutes so the home residents can get to their seats conveniently, and so meals — including the 80 or so home-delivered lunches — can flow efficiently from the kitchen.
"It's a little more hectic, but it's working out," she said.
Sabo and Park said there's a side benefit of consolidation — mealsite participants will now be able to get a first-hand look at the Countryside's facilities, and perhaps sign up for their new day-care program, which had only one participant as of June 25.
Warrensburg Supervisor Kevin Geraghty, who also serves as the county Budget Officer, said the transition was apparently successful.
"It took longer than we thought, but it's going okay now," he said. "It looks like folks are happy with the move — it's a nice facility."
Warren County Supervisors, however, are likely to start looking closely at not only the mealsite program, but the long-term viability of Countryside as they attempt to close a $1 million budget gap.
Talks surfaced last year about closing or selling Countryside as well as Westmount nursing home, facilities not mandated by the state. Countryside costs taxpayers more than $500,000 per year to operate.
Westmount's net annual cost to taxpayers is now about $650,000, a deficit which has been projected to top $6 million annually by 2016 when existing grants dry up.
Geraghty and Sabo said that the more functions that Countryside can serve, the more likely it avoids the fate that so many other similar county-operated facilities have endured across New York State.
"The mealsite move represents a great utilization of Countryside facilities," Sabo said. "It's a win-win situation."
Vote on this Story by clicking on the Icon