Saranac Lake
Sponsored by the Women's Civic Chamber, the Independence Day celebration begins July 4, with the annual Kiddie Parade at 10 a.m., followed by an old fashioned picnic in Riverside Park from 11 a.m. to 5 p.m., along with music, old-time games, fun and food sponsored by local civic groups.
The Saranac Lake Area Chamber of Commerce will host a free outdoor concert in Riverside Park with Roy Hurd and Frank Orsini starting at 7 p.m., and a fireworks display will follow.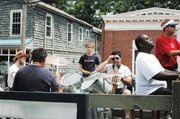 Westport
For those wanting the celebration to last into the weekend, the Westport Fourth events will be held on Saturday, July 7, with the parade starting at 5 p.m. from the Essex County Fairgrounds and ending at the intersection of Main Street and Stevenson Road. Following the parade at 6 p.m., there will be a pig roast hosted by the Westport Volunteer Fire Department, a magic show and ice cream social in Ballard Park and activities and games on the Library Lawn. At 7 p.m., Gary Phinney will be the caller for a street square dance on Merrihew Lane next to the library, followed by fireworks at dusk.
Vote on this Story by clicking on the Icon