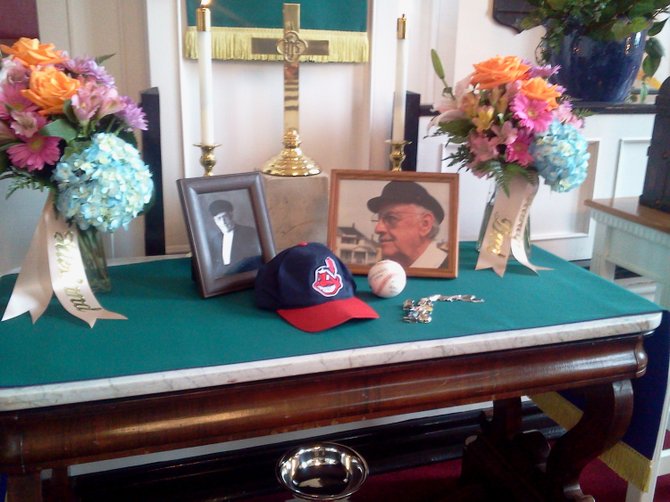 continued — Ronnie Hollingsworth, a relative, said Couchey was always the "main attraction" at family outings.
"His relaying of amazing stories always had us in stitches, and his delivery was magical," Hollingsworth said. "His love for his kinfolk was genuine and never-ending."
UVM professor Dr. Kim Worden talked about working with Couchey and the Rascal the Racoon campaign, aimed at teachings kids about the dangers of alcohol.
"There was a student that told me there was someone that I had to meet," Worden said. "He would have workshops and show the kids how to draw Rascal and other characters. It was just plain fun working with Sid, and this will always be a part of his legacy, that he did this work to help children."
Robert Hasse talked about knowing Couchey when he lived in New York City.
"I knew when I met him that this was my kind of man, and I am sure that you feel the same way," Hasse said. "He had a warm, gentle manor and a humor to go with it."
Hasse also said that Couchey was the same person no matter who he was dealing with.
"The Sid you know here was the same Sid we had down there, and we thank you for lending him to us," he said. "He was full of fun, but he was a very sensitive man. Each of you has a bag full of stories about Sid, go ahead and enjoy them."
Daughter Laura Couchey Abate said to the congregation that her father was "the antidote to my brain."
"I love to tell my kids the stories about the kind of dad he was and what he did with us," Abate said. "He really did have a twinkle in his eyes. Dad always showed kindness and found ways to be a blessing for our family and the community."
Hunn also read a tribute from Couchey's son, Brian, who said his father was the one who taught him about the importance of life when he would capture spiders and release them outdoors instead of killing them.
"Humor has been your hallmark and seasons every part of your life," Hunn read from Brian's tribute. "By your love for mom, you taught me more than words can express. Your name is loved and honored by so many, I am proud to be a Couchey."
Internment followed the ceremony at the Whallons Bay Cemetery.
Vote on this Story by clicking on the Icon