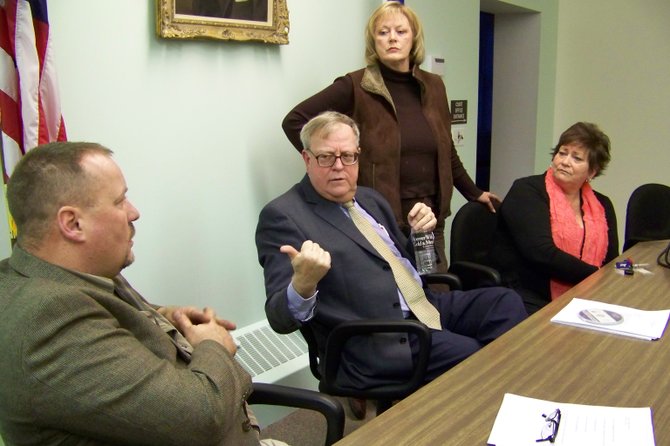 continued — Adopting solar power, he said, would help the town qualify for a "green" status. He said that the town is now working with two engineering firms to assess the financial savings the town could reap by installing a half-dozen or more large arrays of solar panels to power town facilities.
"We're told so far that there's good potential in town for solar power," he said. "We should have it up and running by September."
On a financial note, Geraghty said he'd like for the town to add $50,000 to its fund balance — a goal which he believes is realistic, considering an anticipated health insurance premium rebate in 2012, as well as increased sales tax receipts.
Deputy Supervisor John Alexander added several goals to the list, including selling the town Senior Citizens building, investigating the feasibility of installing submersible hydroelectric turbines in the Schroon River, assisting Hudson Headwaters Health Network towards expanding the Warrensburg Health Center. and pursuing development of senior housing and retirement condominiums in the Warrensburg hamlet.
He also suggested upgrading the town phone system to decrease the number of incoming lines from 15 to five or fewer, to control costs and establish a message system.
He also suggested lobbying to share services with the school district and boosting efforts toward their consolidation from two campuses into one.
Town board member Bryan Rounds suggested pursuing modernization of the highway department's fleet and equipment inventory, taking steps to make the town landfill self-sustaining financially, and implementing zoning changes that focus on improving the commercial district, including allowing light commercial activities in the King Street neighborhood. He also suggested taking more steps toward fair and equal enforcement of town codes.
Board member Joyce Reed suggested promoting development of senior housing and seeking grants for upgrades to basketball courts, and exploring the feasibility of developing a youth recreational center.
Vote on this Story by clicking on the Icon