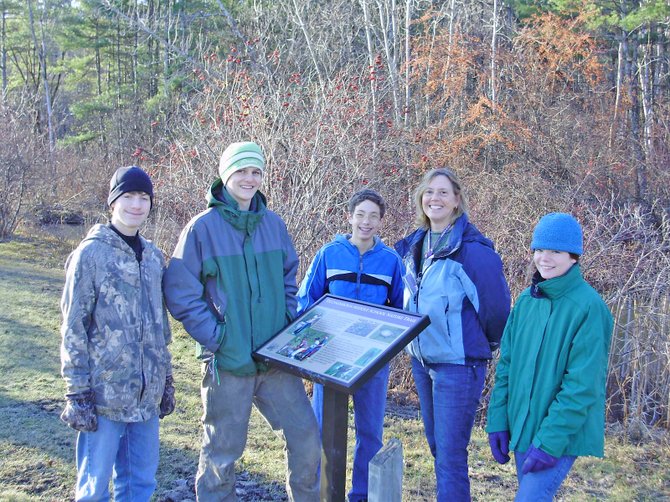 continued — The class has also helped with the school nature trail project, which is located behind the Ticonderoga Elementary-Middle School.
PRIDE of Ticonderoga, Lake George Association staff and Mallon worked together to get funding for the nature trail through SCA Tissue of Glens Falls. That money helped purchase seven nature trail interpretive signs.

Emily DeBolt of the Lake George Association and Mallon collaborated to create the text and visuals for each sign. The signs and posts were then professionally made. John Reale and others donated time and equipment to broaden the trails. They also lay down a studier trail material and secured the sign posts into the ground. The biology students helped to affix the signs to the posts.

"If you have not yet had a chance to walk the trails and read the new signs, you should pick a nice day to stroll the trails," Mallon said.
The upkeep of the trails is an ongoing task that Mallon incorporates into her teaching about ecology and environmental stewardship.

'We would like to thank all the people and organizations in the area that have helped us toward reaching our goals for this year," Mallon said. "It takes a lot of hard work over a long period of time from many, many generous people and organizations."

Vote on this Story by clicking on the Icon