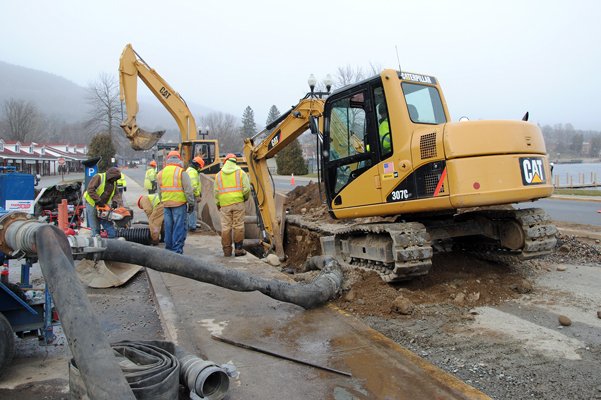 continued — "This is one of the most important water quality improvement projects ever in Lake George," he said, adding that only one other heavily-traveled roadway he knows of — one in Augusta Maine — incorporates porous pavement.
Wick said demonstrations have shown that the pavement can drain up to 3 inches of rainfall in a storm event without runoff, as well as soaking up water from melting snow. It also allows up to 70 percent reduction of the use of salt, which would otherwise add to the lake pollution.
The porous pavement is to be installed between Canada St. and Fort George Road, and in a stretch east of the Million Dollar parking lot to state Rte. 9L.
The pavement is part of a $6 million-plus road reconstruction project which is to replace the entire roadbed and include new sidewalks. Advertising for bids is likely to occur in late winter, with construction to start in mid-April, Tennyson said. Because of the scope of the project, it's likely to be completed in 18 months or so, he said, noting that state transportation officials are now reviewing the final plans.
"We're waiting for the final nod from the state," Tennyson said.
The porous pavement is made up of special pea-sized stones held together in asphalt and polymer binder, and doesn't include the smaller size gravel or sand in the mix, Wick said.
The result is a pavement that resembles Rice Crispy Treats, Tennyson said. His deputy, Kevin Hajos, noted that it's proven itself in Maine to hold up well under extremely heavy traffic, as well as saving the expense of installing storm drains.
Tennyson said that all but 5 percent of the project's primary cost would be shouldered by the state and federal government.
He added that the businesses along the busy roadway will benefit from the reconstruction, noting the existing road and sidewalk are in poor condition.
Vote on this Story by clicking on the Icon