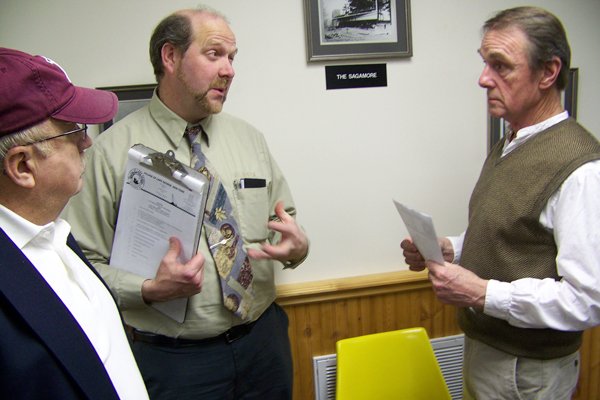 continued — Chester is leasing its solar panels from an engineering firm and an investor group, which are shouldering all construction costs in return for a portion of the revenue from the electricity generation. Over the 10-year life of the contract, taxpayers are expected to save as much as $50,000.
Muratori said that the village and town would be examining this option, as well as outright purchase of the equipment — which would mean a sizeable investment but heftier returns.
Lake George Town Supervisor Dennis Dickinson said he was also enthusiastic about converting to solar energy.
"This puts Lake George on the 'inside list' for sustainable energy projects, and gets us known as progressive," he said, citing various potential benefits for taxpayers.
In other business, the two boards vowed to coordinate Occupancy Tax grants to organizations sponsoring events.
Also, village mayor Robert Blais convinced town leaders to split an $8,000 fee for the Big Apple Circus to use the festival space at the former Gaslight Village. The circus officials have balked at various costs, and have asked the local municipalities to pick up the tab. The village and town officials said Tuesday they'd take the $4,000 each from their Occupancy Tax receipts in an effort to persuade the circus to set up in Lake George this summer for the circus' tentatively scheduled two-week run.
The town board members also agreed in concept to contribute towards the Lake George Skateboard Park, also set for development at the festival space. Blais said that about $45,000 has been raised for the venue, about half of the money that's needed.
He said that the most recent plans call for the skateboarding park to be competition-grade, so sanctioned competitive events can be held there.
The town and village boards also voted to consolidate their lifeguard staffs and hire one seasonal "waterfront director" to oversee the beach personnel.
The two boards also selected members of their panels to serve on intermunicipal committees to explore shared services or outright consolidation of various local departments — highways, buildings and grounds, planning and zoning, sewer and water.
Blais praised the progress in intermunicipal cooperation.
"We're looking forward to working together on the challenge of saving taxpayers' money," he said. "We've got optimism and great hopes."
Vote on this Story by clicking on the Icon