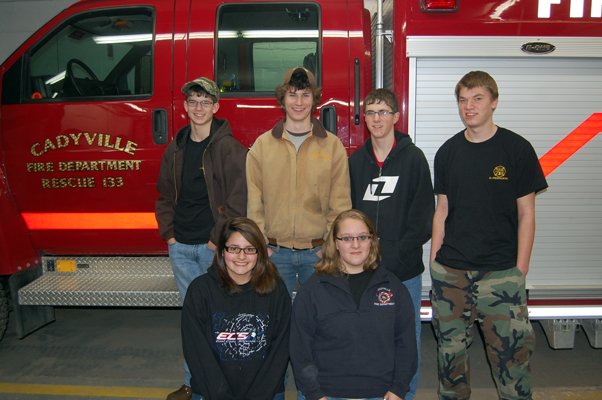 Cadyville — Taylor Duquette has been coming to the fire house since she could walk.
Her father, Butch, is a firefighter and she has always followed in his footsteps.
Today, she is part of the Cadyville Jr. Firemen program.
"I want to be a firefighter," she said. "I like to help people."
Jr. firefighters are members with junior status the receive scaled back training and ride alongside full-fledged firefighters on calls, helping in their capacity to extinguish the blaze.
"When I started in 2006 we were part of the Boy Scouts, and we recently switched to Jr. Firemen," said Eric Jock, a firefighter and a lead advisor for the program. "It was started to bring young kids in the fire department."
There are currently six youth aged 14 to 18 in the program. Since it started, five youth have graduated to become full-fledged firefighters.
Members have to be performing outstanding in school before they can join the program.
"This gets them in the public and gives them good guidelines," Jock said. "Their whole outlook on life changes."
They undergo training with adult firefighters, take field trips to various fire houses and perform an array of community service.
"You get to help people and you hold yourself to a higher standard," Jock said. "It teaches them life values.
"It gets them prepared to be a full member of the department."
The teens go on calls with adults and ride as full members, helping outside the house, holding hoses and assisting with entry.
They undergo the same training, though it is scaled back some and there are certain tools they cannot operate.
"We don't try to make them do stuff," jock said. "We ask them what they want to do."
They have a willingness to learn and a genuine interest in the fire service.
(Continued on Next Page)
Prev Next
Vote on this Story by clicking on the Icon