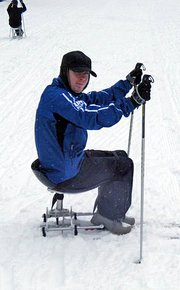 continued — In conjunction with the upcoming 32nd Empire State Winter Games in Lake Placid on Feb. 2-5, there will be a pair of adaptive ski clinics – each culminating in an adaptive ski race.
On February 3 and 4, Whiteface Mountain will host a free adaptive alpine race clinic conducted by New England Disabled Sports, and instructed by Paralympian Lacey Hewerd and Geoff Krill of the Professional Ski Instructors of America (PSIA).
"It is an upper level alpine event," Don Dew, the founder and director of the Whiteface adaptive ski program which was started in 1996, said. "It is more difficult terrain than the average adaptive ski event and the skiers generally need to be more independent."
Participants in the clinic will be provided with equipment and lift tickets for both the participants and anyone who assists them on the mountain. Anyone who is interested in adaptive alpine skiing can take part in the event, but the focus of the program is to help more established adaptive skiers reach the competitive level.
"Throughout the adaptive world, there has been a void between recreational programs and Paralympic programs," Dew said. "This clinic is designed to help bridge that gap."
The event culminates in a slalom race on Feb. 5, the length and number of gates of which are still to be determined.
Dew also pointed out that racers on Feb. 5 do not need to register for the clinic, nor are clinic participants who come to learn racing technique compelled to race the following day. Whiteface will also be hosting the Whiteface Alpine Physically Challenged Games on Feb. 25.
Adaptive cross country skiers and biathletes will also be able to take part in a clinic and races during the week of the Empire State Winter Games.
The clinic, which boasts Lake Placid's own and U.S. Olympic biathlete Haley Johnson as an instructor, runs from Tuesday, Jan. 31, until Saturday, Feb. 4. The free five-day clinic is sponsored by Adirondack Adaptive Adventures and the U.S. Paralympic Nordic Team, and will be held at the Olympic Sports Complex at Mount Van Hoevenberg. Empire State Winter Games races will again be held on Sunday, Feb. 5.

Vote on this Story by clicking on the Icon