Ticonderoga — Jordan McKee is a very good bowler. A three-time state championship tournament qualifier for the Ticonderoga High School girls team, McKee is an established kegler.
That didn't prepare the Sentinel junior for Jan. 4. That day McKee rolled a record 750 series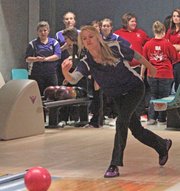 as Ti defeated Beekmantown in Champlain Valley Athletic Conference action.
McKee's 750 broke the old CVAC mark of 719, set by AuSable Valley's Savannah Ronfeldt.
McKee fired a 279-234-237-750 for the Sentinels.
Her 279 game tied the CVAC record for high game, which she now shares with Ronfeldt, Saranac's Hillary Miner, Plattsburgh's Stacy Steele and Beekmantown's Ali Munson.
"I didn't know it was a record until it was over," McKee said of the match. "I knew 279 was a great game and I was doing well, but I had had no idea I was setting records. I was shocked."
Although unaware of the records, McKee faced plenty of pressure. She started the match with nine straight strikes and was staring at a perfect game until missing a single pin in the 10th frame. She got that spare and finished with a strike for her 279 game.
"It was nerve racking," McKee said of the possible 300 game. "I was pretty nervous; I was shaking. Some of my teammates tried to talk to me about a perfect game and I tried to talk about other stuff. I didn't want to think about it."
McKee came up just short of the perfect game, but she was on a roll. A 186 average bowler, she fired games of 279, 234 and 237.
"Bowlers try to find a target in the center of the lane, a mark," Donna Fleury, Ti bowling coach said. "Jordan found her mark and hit it over and over. If a bowler can hit their mark 50 percent of time they're doing well. She must have hit it 85-90 percent."
(Continued on Next Page)
Prev Next
Vote on this Story by clicking on the Icon