continued — "I want Mr. Booth especially to be assured that, as long as I'm mayor, I will do everything I can to make sure that the environmental issues are properly carried out," Maroun said during the public comment period.
The developers — Preserve Associates —still need to obtain a number of permits from other agencies, including the Department of Health and Department of Environmental Conservation, prior to construction. They will also have to apply for a PILOT (payment in lieu of taxes) from the Franklin County IDA.
The lead developers — Michael Foxman and Tom Lawson — watched the vote at APA Headquarters in the middle of a audience of 58 people.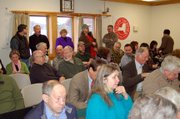 The Park Agency's approval includes a project order and 14 permits for the various project components, which are conditioned to ensure no undue adverse impacts occur as a result of this project. The project sponsors must strictly comply with the New York State Wild, Scenic and Recreational Rivers Act for any activities in the Raquette River recreational river area. Deed restrictions will preserve about 4,600 acres of resource management lands on the project site, designed to protect open space and wildlife resources.

About the project
The 2005-100 project application was filed by Preserve Associates, LLC (Sponsor), and Big Tupper, LLC, Tupper Lake Boat Club, LLC, and Oval Wood Dish Liquidating Trust (Landowners) for an Agency permit for a mixed commercial and residential development on the sites of the former Big Tupper Ski Area, former McDonald's Marina and the surrounding Oval Wood Dish lands in the Town of Tupper Lake, Franklin County. The development proposal was first announced in February 2004.
The project site is approximately 6,235± acres of property and includes lands of the former Big Tupper Ski Area, the surrounding Oval Wood Dish landholdings, and the former McDonalds Marina. Most of the site is located east of NYS Route 30, except for the marina and two other small parcels that are located west of Route 30. The site includes about 1,800± feet of frontage on Lake Simond and about 235± feet on Big Tupper Lake at the marina.
Vote on this Story by clicking on the Icon