Ray Brook — The Adirondack Park Agency (APA) Jan. 20 approved the controversial Adirondack Club and Resort project in Tupper Lake with a 10-1 vote.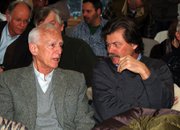 Before the 11 board members cast their votes — in alphabetical order — they explained why they voted yes or no. Almost all agreed that the review process, which took almost eight years, needed improvement. But that didn't stop most from approving the resort planned around the Big Tupper Ski Area on Mount Morris.
"People have lost a lot of sleep over this," said DEC designee Judy Drabicki.
"I've agonized over this decision," said Commissioner Art Lussi. "It's hard because you have to take sides … I think this plan is very thoughtfully done."
"This brings the opportunity of economic development to Tupper Lake," said Commissioner Bill Thomas.
Commissioner Richard Booth was the only one to vote against the project, citing three main reasons: the sponsors failed to provide realistic sales figures; no wildlife inventory was required or completed, and there was no review on how the project would impact wildlife; and the project is not consistent with the APA's resource management zoning.
"I think these three flaws that I mention have caused me to conclude that this project is not consistent with the plan," Booth said. "There is an undue adverse impact."
Here is how the board voted:
•YES: Frank Mezzano (Speculator), moved motion to approve
•YES: Bill Thomas (Johnsburg), seconded motion to approve
•NO: Richard Booth (Ithaca)
•YES: Sherman Craig (Wanakena)
•YES: Judy Drabicki (Department of Environmental Conservation designee)
•YES: Art Lussi (Lake Placid)
•YES: Jen McCormick (Department of Economic Development designee)
•YES: Dierdre Scozzafava (Department of State designee)
•YES: Leilani Ulrich (Old Forge)
•YES: Bill Valentino (Albany)
•YES: Cecil Wray (New York City)
Many residents and businesspeople from Tupper Lake were at the Jan. 20 meeting in support of the project, including Tupper Lake Village Mayor and Franklin County Legislator Paul Maroun, Jim LaValley of the ARISE (Adirondack Residents Intent on Saving Their Economy) group, Mark Moeller of the Tupper Lake Business Community, and David Tomberlin of the Tupper Lake Chamber of Commerce Board and Tupper Lake Town Board.
(Continued on Next Page)
Prev Next
Vote on this Story by clicking on the Icon