WARRENSBURG — Bertrand's passing prompts poignant memories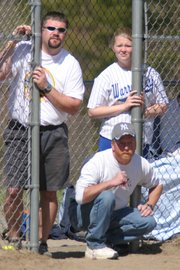 Nearly 1,200 people stood in line Friday June 13 outside Alexander-Baker Funeral Home in frigid, windy weather for as long as 45 minutes to bid farewell to beloved local teacher Brent Bertrand who died unexpectedly Tuesday Jan. 10. At one point, the line into the funeral home to share thoughts with Bertrand's family members was 140 feet long or more.
The wake was scheduled from 3 to 6 p.m., but it ended up stretching to six hours to accommodate all those who offered condolences, funeral director John Alexander said.
"It was phenomenal — just incredible," he said, noting that Warren County Sheriff's Patrol officer Haley Grace was positioned outside the funeral home to control traffic
Earlier Jan. 13, grieving students at Warrensburg High School continued to be consoled by school counselors, social workers and faculty members, school officials said.
"Those students who were in shock Tuesday and Wednesday now continue to grieve," Superintendent of Schools Tim Lawson said. "This has been a tragic loss to the whole community."
Bertrand, 53, was a Technology instructor as well as a softball coach at the school — well-loved and respected by both his peers and the students. Bertrand died of apparent natural causes early Tuesday morning at his home.
As of Thursday, hundreds of heartfelt tributes were scrawled on a 60-feet-long mural titled "Messages to Mr. Bertrand" that stretched the length of the school's cafeteria wall.
Bertrand, or "Mister B," was known particularly for his ability to inspire students through his ever-present enthusiasm, sunny attitude and helpful spirit — and the messages on the mural reflected these themes. Here is a sampling of some of the messages:
• "You were an amazing teacher — you made every student feel like they were important..."
•"You moved every heart and touched every soul — I'm heartbroken not just for the loss of your upbeat smile and friendly waves in the halls, but for the students yet to come who will never have the pleasure of knowing you..."
(Continued on Next Page)
Prev Next
Vote on this Story by clicking on the Icon