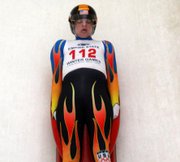 Schroon Lake — A little over a year ago, 17-year-old high school senior Justin Wachowski had never set foot on an icy luge track or even knew how skeleton and luge differed. Now he is studying his sport under top athletic instructors at the Olympic Training Center in Lake Placid, and says he won't decrease his momentum until he hits Olympic gold.
"I'm the type of person who will stick with a sport till the sport kicks me out," Wachowski said. "I plan on going until they say 'Welcome to the Olympic Team' or 'You are not good enough' and then I'll evaluate whether I go to college or participate in skeleton or bobsled."

Luge is one of the most dangerous sports in the winter olympic games, where athletes race down an icy, high-banked track at speeds up to 90 mph. When Wachowski heard about luge he was all for the idea of an adrenaline-pumping slide down an icy track.
"I'm an adrenaline junkie, I love how when the adrenaline is pumping through your veins you can become so focused on one thing and you can exceed your expectations in others," Wachowski said.
In July 2010, Wachowski saw an advertisement for a Slider Search Competition being held at the Clinton Community College campus. Though the recruiters were looking for candidates in the 12 to 15-year-old age range, judges saw potential in 16-year-old Justin.
Dan Wachowski, Justin's father, said he did so well at the tryouts the judges invited him back to do a Wheels Clinic at the Olympic center in Lake Placid, where he impressed the judges with his form on the board. From there he was invited to a Start Competition where he again impressed judges with his speed. From there he was asked to participate in the Luge Junior Development team, an amateur training team set up to train and condition Olympic hopefuls.
(Continued on Next Page)
Prev Next
Vote on this Story by clicking on the Icon