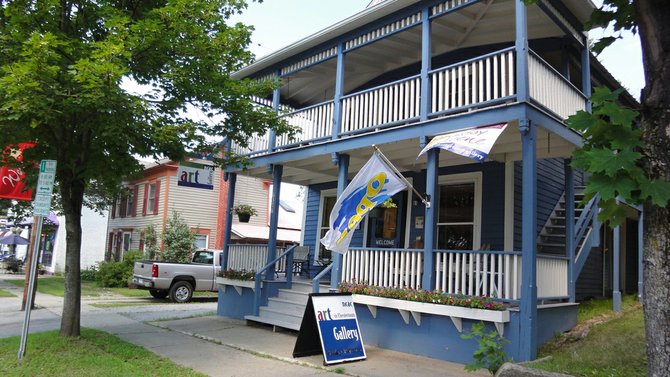 continued — Holman said he was having minor difficulties finding enough space to show the artwork of a record number of artists participating — no less than 55, representing a wide variety of media.
He said he has high hopes that the upswing in gallery visitors and sales will continue its trend.
"We want to stay open not only to have continuity, but for the artists and the community," he said. "But we do have to pay the heating bills."
Hailing the gallery's decision to stay open was Don Butler, proprietor of Panther Mountain Inn and co-founder of the Tri-Lakes Business Alliance.
"This gives us a little bit of a spark here in Chestertown," he said. "This indicates that something's changing in the right direction."
Mary Jane Dower, chairwoman of Chestertown's Main Street Beautification Committee, also praised the development.
"Oh, this is wonderful!" she said. "The Art in Chester gallery people are very active and forward-thinking — And it shows what can be accomplished if you have good planning and follow-through."
She said the gallery's success would likely prompt others to launch stores offering vital services, eventually filling up the many empty Main St. storefronts.
"This can be the impetus to get downtown going again," she added.
Vote on this Story by clicking on the Icon