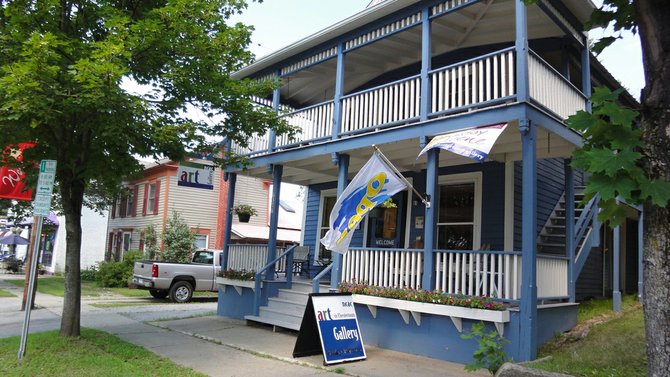 Chestertown — Although a number of stores in recent decades have attempted to conduct business downtown but have closed down due to a depressed retail environment, the Art in Chestertown Gallery is experiencing considerable success.
Sales of artwork in 2011 doubled the tally over the prior year, and attendance at the gallery has also increased substantially, gallery organizer Fred Holman of Brant Lake said this week.
"This is surprising, but we're very happy about it," Holman said.
This increase in activity has prompted the gallery sponsors, the North Country Arts Center, to make a major commitment to both area artists and art enthusiasts as well as the North Warren communities.
With gallery visitations highly dependent on tourists as well as local art enthusiasts, the Arts Center board of directors was aiming to close for the off-season as they did a year ago following their holiday show.
But this year, the solid increase in gallery attendance in early winter months coupled and the interest among artists to show their work this winter has spurred the board to keep the gallery open through the winter, Holman said.
That's not all that's upbeat with the enterprise.
Since opening the gallery in July 2010, the Art's Center membership has blossomed from 36 members to 200.
Last weekend's well-attended exhibit-closing reception at the gallery confirmed the decision to stay open.
Also Arts Center board members were pleased that more people have been buying art and fine crafts through the gallery, despite the questionable economic times, Holman said.
"We had a great crowd at the reception — I was amazed," Holman said. "Also, it was one of our biggest shows ever."
Early this week, Holman was busy arranging art through the two-story gallery on Main St. for an even more expansive show at the gallery — "Winter Magic," which is to open Friday, Jan. 20 with an artists reception from 6 to 8 p.m.
(Continued on Next Page)
Prev Next
Vote on this Story by clicking on the Icon