Ray Brook — The Adirondack Park Agency (APA) Board met Wednesday, Jan. 18 at its headquarters to continue reviewing the Adirondack Club and Resort project proposed for the town of Tupper Lake.
Document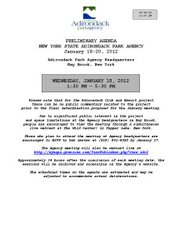 The APA has dedicated most of its meeting time in November, December and January to the Adirondack Club and Resort, and commissioners are expected to vote on the permit Friday, Jan. 20. The board normally meets for two days each month, a Thursday and Friday; however, due to the extensive amount of material during this review and deliberation, commissioners will meet for three days this month, Jan. 18-20.
Early in Wednesday's meeting, APA Executive Director Terry Martino introduced the Executive Team of staff members: John Banta, Sarah Reynolds, Greg Bendell, Ed Snizek, Rick Weber and Matt Kendall. Martino is also a member of the team.
"Over the next three days, the Executive Team will again be available for aid and advice," Martino said. "The Executive Team looks forward to the Board's deliberation."
Wednesday's agenda items included: Adirondack Wild Motion (Banta); Financial Impact and Economic Benefits (Dan Kelleher); Statutory Framework (Reynolds); Project Compatibility with the Land Use and Development Plan: Board Roundtable Discussion/Q & A (Chairwoman Leilani Ulrich); and Permit Structure/Project Management (Reynolds).
The meeting will continue on Thursday, Jan. 19 and conclude on Friday, Jan. 20.
The Board will convene on Thursday morning at 9 a.m. and end its business at 5 p.m. On Friday, the Board will reconvene at 8:30 a.m. to undertake matters not related to the Adirondack Club and Resort. The Board will resume its deliberation on project 2005-100 at 9 a.m. and it is anticipated the meeting will conclude by 1 p.m. 

The meeting will be webcast live. In addition, the public is invited to view the webcast live in Tupper Lake at The Wild Center.
(Continued on Next Page)
Prev Next
Vote on this Story by clicking on the Icon