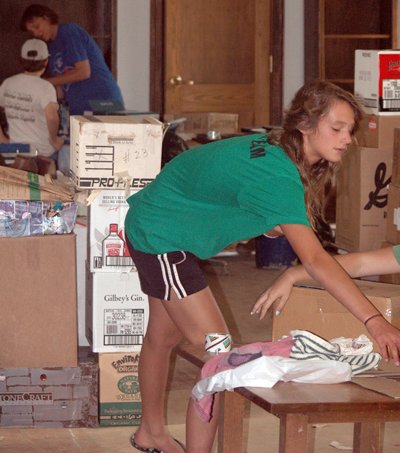 continued — A crew of 40 volunteers worked tirelessly through the week, acting as a "bucket brigade," getting water out of the basement any way they could, as well as salvaging books and other equipment and cleaning the property of storm debris.
Ward said the reaction reminded her of how close the community is.
"We've felt very fortunate," Ward said. "If this disaster was going to happen, I'm glad it happened where people are so caring like they are in Jay."
The building's historic architecture and original hemlock bookshelves stood the test of the waters, Ward said.
Unfortunately, newer shelving units and walls did not. About half of the shelving units needed to be replaced and the other half were in need of refurbishing.
Local contractor Mike Loyd Brewer, who shared the board's appreciation for older structures, was hired to restore the building.
"This was an opportunity to start fresh and we wanted things as perfect as possible," Ward said.
After months of hard work by many volunteers and over $40,000 in fees to contractors and materials, the community continues to give what they can to restore the library to its former state.
About 5,000 books have been donated by the community thanks to an event arranged by local Author, Kate Messner, who held a book drive and singing at Book Store Plus in Lake Placid. The event raised $1,600, which was 10-percent of the profits, for the library to rebuild its book collection.
Owner Sarah Galvin said the store has also given the library a gift card with $3,000 in donations from community.
Though the doors will soon open, fundraising efforts will continue. Ward said the library is no longer accepting book donations at this time, but are looking for anyone with art work, poetry or photographs inspired by or of the flooding. The art work will be put into a slide show of the devastation or displayed inside the newly finished library.
Vote on this Story by clicking on the Icon